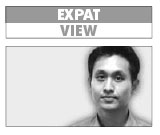 Long before the country's top two political sessions got under way this week, everyone knew jobs would top their respective agendas.
Not surprising, considering how high the stakes are.
The slump in exports caused by the global financial crisis has left more than 20 million migrant workers without jobs, while 6 million college graduates are soon to enter a dismal job market in a year Premier Wen Jiabao has described as the toughest of the decade for China's economy.
From stimulating domestic demand to providing employment subsidies and social insurance, the government is doing all it can to shore up the sagging economy.
For many, however, surviving this perfect economic storm is not the sole issue. Hope is high that beyond the crashing waves a new economic model awaits.
Most know it as the New Green Deal. According to a recent UN Environment Programme initiative, countries must base their economic recovery on a commitment to renewable, clean energy.
Reducing carbon emissions by weaning industries off oil will not only "green the globe" but also spur growth, spark an employment boom and help combat climate change.
And China is best poised to not only effect the new deal but also to reap the benefits of it.
Through its investment in available and future technologies, by 2030 the country is expected to be able to reduce its oil imports by up to 40 percent and cut its coal demand and greenhouse gas emissions by almost 50 percent, according to a recent report by consultancy McKinsey & Co.
Also, the most recent high-level exchanges between China and the US called for renewed efforts in bilateral cooperation in the green sector, with technology transfer and development singled out as crucial to the dialogue between the world's two largest greenhouse gas emitters.
As US President Barack Obama's administration pushes for an economy that provides both economic and environmental security, China can ride and contribute to the potential lush wave of inventions and initiatives.
The 200 environmental technologies identified by McKinsey in its report that China is positioned to lever - including the power, automobile, heavy industry, waste management, building, agriculture and urban design sectors - conveniently coincide with the same areas of promise marked out by UN initiatives.
The Chinese government has said it will funnel at least 350 billion yuan ($52 billion) of its 4-trillion-yuan financial stimulus package into nascent environmental industries.
A boost to the country's $17 billion energy sector, which already employs about a million people, is also in the works.
But much more is needed because, put simply, more investment in these areas means more jobs for workers.
A clear commitment to a green economy that stimulates employment will be one of the best outcomes from this year's sessions of the National People's Congress and Chinese People's Political Consultative Conference.
Most encouragingly, attitudes on the ground are promising full support for any green solution. Recent surveys of urbanites in at least 10 Chinese cities have shown that people will readily pay for clean energy such as wind and solar power, with the younger generation most willing to accept price hikes for alternative fuel sources.
In all respects, the place for the Green Deal is here and the time for it is now.
Alexis Hooi is a senior writer with China Daily