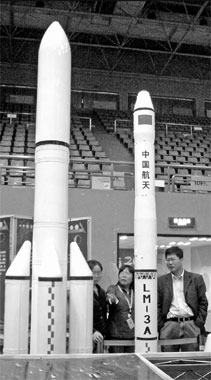 Models of China's Long March rockets were displayed at a recent air show in Beijing. Dou Wenbao
China will be capable of exploring Mars by 2013 if a proposed space program receives immediate government support, a top scientist said yesterday.
"We will be totally able to carry out an independent Mars probe, based on our lunar probe technology," Ye Peijian, a CPPCC member and chief designer of the nation's first moon probe, told China Daily in an exclusive interview.
But he added the government had not yet approved such a project.
He said two large satellite ground tracking control stations were now under construction for the second stage of China's lunar program, and explained: "Though the Red Planet is 55 million km away from earth, a distance more than 100 times of that between the moon and earth, the two stations will enable us to track and control a Mars probe."
The Chang'e I satellite, which ended its mission with a controlled crash landing on Sunday, had the capacity to travel to Mars, he said.
"If we have a more powerful rocket, our calculations show we can send our own Mars probe into orbit," he added.
But he predicted that Yinghuo I - a micro-satellite to be placed atop a Russian launch vehicle in October - is not likely to achieve the best results as its departure point was not close enough to Mars.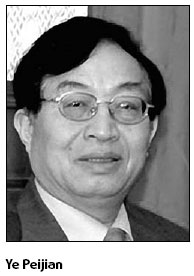 "If work starts now, a homegrown Mars probe can be launched as early as 2013. But if we waste a couple of years we might have to wait until 2016, which is the next best time for launching a Mars probe," said Ye.
He estimated the cost would be less than the 1.4 billion yuan ($204 million) spent on Chang'e I.
China plans to land its first lunar lander, Chang'e III, on the moon at the Sinus Iridium (Bay of Rainbows) in 2013, he said. "We have five possible landing sites but the Sinus Iridium region is our first choice as it is in a better condition, smooth and illuminated."
He explained that Chang'e III will carry a six-wheel rover for surface exploration weighing 120 kg and with a load capacity of 30 kg.
"We expect the rover to work on the moon for at least three months," he added.
(China Daily 03/05/2009 page6)