Will the country's first law on food safety adopt zero tolerance toward either food manufacturers or other affiliated sectors that pose threats to people's health?
Of great concern not only to consumers but also food manufacturers, the draft law was reviewed for the fourth, and possibly final, time yesterday at the current session of the Standing Committee of the National People's Congress.
Repeated food safety accidents, such as milk contaminated by melamine and problematic duck eggs, have made urgent a sound law regulating the entire process of food production - from growing crops and raising stock and poultry to the manufacturing of food products.
For consumers, such a law will hopefully stop farmers from using too much fertilizer, pesticides or other chemicals that may promote the growth of crops and vegetables at the risk of adverse health effects.
For food manufacturers, abiding by the new law may mean stricter tests on raw materials. It may also mean tighter control of manufacturing processes. All this will likely increase the cost of production.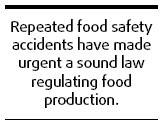 It is unrealistic to hope that the adoption of this law will immediately change the landscape of food safety. It will be just the beginning of a crusade against sub-standard or even illegal practices in the food manufacturing industry and other related trades such as advertising
The crusade must start from the very source - agricultural production. The draft law stipulates that related standards and rules must be abided by in the use of fertilizers, pesticides, additives to fodders and other chemicals.
This is absolutely right. But whether the related agricultural departments at grassroots level can be held accountable for effective supervision of agricultural production will make the difference.
In addition, the interests of rural villagers must be protected and incomes be subsidized when they are made to toe the line on the use of chemicals in agricultural production.
So detailed interpretations about the implementation of this law are needed and so are mechanisms to make sure the law will be implemented to the letter.
What is noteworthy about the draft is the stipulation that food safety supervision departments and organizations in charge of food quality or safety tests are prohibited from recommending food to consumers.
This is particularly important. On the principle of conflict of interest, these organizations should never be involved in the food business. But who knows how many so-called healthy foods they have recommended to consumers in recent years?
The stipulation that any individual or organization that has introduced substandard food in advertisements must be held accountable is reasonable - for example, it is unreasonable for actors or actresses to make money from advertisements without taking any responsibility whatsoever for what they are marketing.
The adoption of this law, along with the establishment of a food safety committee, is hopefully a healthy start to improving food safety.