BEIJING -- China pledged Thursday it will implement an even more proactive employment policy this year and allocate 42 billion yuan ($6.13 billion) to offset unemployment caused by the global financial crisis.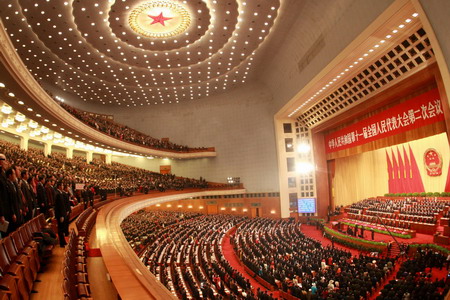 China's National People's Congress starts its annual session at the Great Hall of the People on Thursday morning in Beijing February 5, 2009. Chinese Premier Wen Jiabao delivers a government report to the session. [Xinhua]
To create more jobs, the government will make full use of the role of the service sector, labor-intensive industries, small and medium-sized enterprises, and the non-public sector of the economy, according to a government work report being delivered by Premier Wen Jiabao at the opening of the Chinese parliament's annual session.
"We will do everything in our power to stimulate employment," says the report distributed to media before the session.
The report says priority will be given to finding jobs for university graduates and migrant workers.
The two groups are the hardest hit as the deepening global financial crisis dented job demand in the world's fastest-expanding economy.
The government will offer social security benefits and position subsidies for college graduates who take jobs in public administration and public services at the community level, according to the report.
It says those who either take jobs in villages or enlist in the army will receive tuition reimbursement and have their student loans forgiven.
Institutions of higher learning, research institutes and enterprises undertaking key research projects will be encouraged to recruit qualified university graduates to do research work.
To help graduates start their own businesses, the government will speed up the establishment of startups industrial parks and incubation bases that require less investment and yield quicker results.
Meanwhile, China will boost government investment and launch major projects to employ more migrant workers, says the report.
Enterprises in a difficult situation will be encouraged to prevent layoffs by renegotiating wage levels with their employees, adopting flexible employment and work hours, or providing on-job training for them.
The government will also increase the export of organized labor services and guide the orderly flow of rural migrant workers, according to the report.
With its annual growth slowing to a seven-year low of 9 percent last year, China has seen about 20 million out of 130 million migrant workers returning to their rural homes without jobs.
In addition, there will be 7.1 million college graduates seeking vacancies this year, including 1 million who failed to secure jobs last year.