Calls are growing louder for the resumption of the seven-day Labor Day holiday, which is expected to help boost the tourism industry and domestic consumption, thus cushioning a severe economic downturn.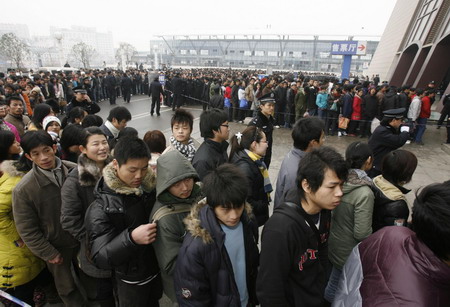 Travellers queue up to buy train tickets back home at Wuchang Railway Station in Wuhan, central China's Hubei province January 4, 2009. An early travel rush with travellers mainly migrant workers and college students return home for Spring Festival holiday. [Xinhua] 
It is necessary for the country to reinstate the week-long holiday, said Zhang Xiqin, former vice director of the National Tourism Administration in a group discussion of the ongoing session of the Chinese People's Political Consultative Conference (CPPCC).
Full coverage:


NPC and CPPCC 2009
Related readings:


 Advisory body session focuses on economic growth


 Presidium, agenda set for China's parliamentary session


 Annual CPPCC session starts


 China opens annual political advisory session

Consumers typically spend more money and make more trips during the May Day break than during the National Day and Spring Festival holiday, explained Zhang, who is also a CPPCC member.
The three holidays are called the golden weeks, partly due to the fact that the tourism industry will get a windfall of money as millions of people flock to tourist destinations.
During the past Spring Festival Holiday, the tourism industry garnered an income of 50.93 billion yuan, an increase of 23.1 percent over a year earlier. The May Day golden week was cancelled last year, due to public anger over the overcrowding of buses, railways, and tourists sites.
If resumed, according to Zhang, the May Day holiday week will prove to be a boost to the economy, which is shifting from a reliance on exports to domestic consumption as plunging external demand led to big falls in exports.
Huang Qingyong, another CPPCC member was also in favor of the resumption. He is drafting a proposal on this issue, earlier reports said.