China should introduce a 4.5-day workweek schedule to replace the current five-day workweek, said a member of China's top political advisory body ahead of the beginning of the organization's annual session.
Zhang Xiaomei, a well-known businesswoman in China's beauty industry and member of the 11th National Committee of the Chinese People's Political Consultative Conference (CPPCC), is expected to submit the change of workweek proposal together with 16 other proposals on Tuesday.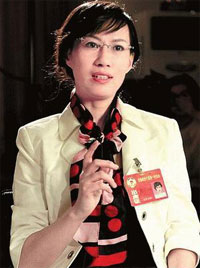 Zhang Xiaomei [File photo]
China adopted the five-day workweek system in May 1995 to replace the six-day workweek, aiming to improve work efficiency and stimulate the service industry such as tourism.
Currently, employees work eight hours a day, five days a week in China.
However, it is estimated that efficient working hours only account for 70 percent of the total working time in China, which means an average of 2.4 hours per day are wasted.
Zhang criticized the current workweek system for its low work efficiency and because it hindered employees from improving their quality of life since they only have two days a week to rest.
According to Zhang's plan, people will work four-and-a-half days, or 36 hours a week.
With many developed countries adopting a four-day or four-and-a-half workweek system, Zhang said China should follow the global trend and revise its current system.
Under the proposed system, Zhang believed not only work efficiency and employees' quality of life will improve, but also new jobs may be created.
It is calculated that 6 percent more jobs will be needed if employers shorten working hours by 10 percent. Employment has become a tough task for government at all levels in China amid the current global financial crisis.
In 2009, China aims to create 9 million new jobs in urban areas to keep the registered unemployment rate under 4.6 percent.
Full coverage:


 NPC and CPPCC 2009
Related readings:

Free training aids migrants' job hunting

Job creation initiatives spelled out

Job offers guaranteed for grads

1 million graduates to get job training
However, whether wages should be reduced for shorter working hours remains an important factor in terms of the feasibility of the proposal. If the wages of employees aren't cut, the operating costs of employers will increase. On the other hand, if employees'salaries are cut with fewer work hours, their living standard will decrease.
In addition, it is still unknown whether the reduction of only half a workday would be agreeable to employees. "I don't mind the reduction of my salary, but half a day is too short to do anything," said Liu Yi, a 25-year-old woman working in a Beijing museum. "I'd rather work four days a week and receive 80 percent of my current salary."
Still, the reduced workweek would influence the operation of enterprises and institutions to a large extent.
"I have no objection to the proposed 4.5 workday system," said Beyond Sun, senior manager of a magazine in Beijing, "But as a manager, I hope the longer time for people to rest will not influence the work efficiency of my employees. Many of them can't focus on work after golden week holidays as they had too much fun during their time off! Anyway, everyone must obey it if the government enacts new regulations concerning this system."
Currently, Chinese employees work 250 days a year. They have 11 legal paid holidays, while employers don't pay for weekends unless employees work on Saturdays and Sundays.