SHENYANG -- For millions of migrant workers in China who have lost their jobs as a result of the global financial crisis, finding new work as soon as possible is their top priority this year.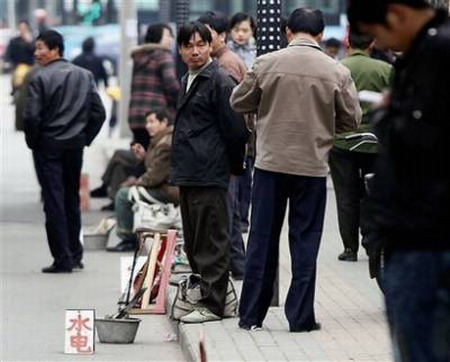 Job seekers wait for clients next to placards describing their skills in a street Saturday February 21, 2009 in Wuhan, China. [Agencies]
But for those with no expertise or skills, this is a special challenge.
Related readings:


 S.China city extends online job hunting to migrants


 Survey says 20 million migrants lost jobs


 Jobless migrants find govt help


 Giving hope to migrants
Migrant workers in the northeastern Liaoning Province, however, are benefiting in the increasingly competitive labor market from an established scheme to help them develop at least one skill.
Free Job Training 
About 1.5 million people in Liaoning, including 700,000 rural migrants, have received free training since 2005, says Wang Chenxin, assistant director of the Liaoning Provincial Labor and Social Security Department.
And more than 60 percent of them have found jobs, he adds.
The government-subsidized job training program was launched in 2005 to help the many workers laid off in the province's industrial reform, and it can include food and transport subsidies for some participants.
The program was extended later to farmers who want to open their own businesses or find work in cities, and high school graduates.
About 600 training institutions in Liaoning offer courses in 96 fields to migrants and laid-off workers, and young people new to the work force.
So far, the provincial government has spent 900 million yuan (US$131 million) on the program, and another 290 million yuan on training equipment.
A remote training system has also been established, with which farmers can learn agricultural techniques in their own villages, he says.
As a result, an estimated 1.6 million of Liaoning's 2 million migrant workers are employed, mainly in the manufacturing and service industries.
Programs Launched Across China
At least 20 million of China's 130 million migrant workers have become jobless after tens of thousands of labor-intensive export-oriented factories closed due to the global financial crisis, and job training schemes for migrant workers are springing up around China.
Authorities in the southern Guangdong Province offered training to 4 million people in 2008, and plan to provide training to another 4 million in 2009.
In Guangzhou, the provincial capital, a new program provides free job consultation and information on job openings and training courses free of charge or at discounted prices to the unemployed.
And in the eastern Shandong Province, programs were organized last year for 230,000 laid-off workers. About 75 percent of them found new jobs, local government figures show.
A Nationwide Training Program 
The National Development and Reform Commission, and the ministries of finance and human resources and social security early this year announced that a special program will be created to increase vocational training for migrant workers, college graduates and laid-off workers in 2009 and 2010.
It will provide unemployed migrants with new skills to help them find better jobs or open businesses in their hometowns.
Unemployed migrants will also receive central government subsidies to encourage them to take training.
In 2008, about 4 million laid-off workers attended vocational training, and another 400,000 received education to start their own businesses, according to the Ministry of Human Resources and Social Security.