'Revolution's cradle' nurtures new talents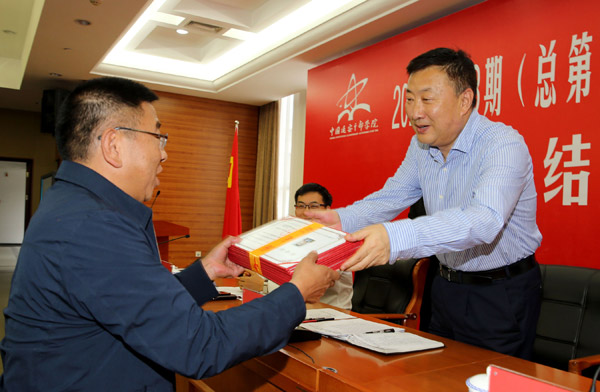 Zhao Yaohong, vice-president of the China Executive Leadership Academy presents course certificates to cadres. [Photo by Huo Yan/chinadaily.com.cn]
A Party school in rural China continues to provide inspiration for cadres, as Luo Wangshu reports from Yan'an, Shaanxi.
The China Executive Leadership Academy in Yan'an, Shaanxi province - the scene of some of the Communist Party of China's earliest revolutionary activities - offers officials "red" education to reinforce their loyalty to the Party, and improve and strengthen the spirit of cadres to ensure good governance.
In September, when the semester starts, officials from across the country arrive to study Party theory and education at the academy, a national-level Party school. The curriculum includes Party history, Party building and Party discipline.
From 1935 to 1948, the CPC lived and fought in Yan'an. The period created the "Yan'an spirit", which emphasizes several qualities, including adherence to the correct political direction, the liberation of thought, seeking truth, self-reliance and serving the people.
Since it opened in 2005, the academy has specialized in "Party spirit education" that helps officials remain disciplined and determined to perform their duties with great passion.
"The academy uses historical resources as unique advantages for research, writing textbooks and holding classes at historic sites," said Li Guoxi, the academy's executive vice-president.

Editor's picks