The evolution of Hong Kong culture: Beauty power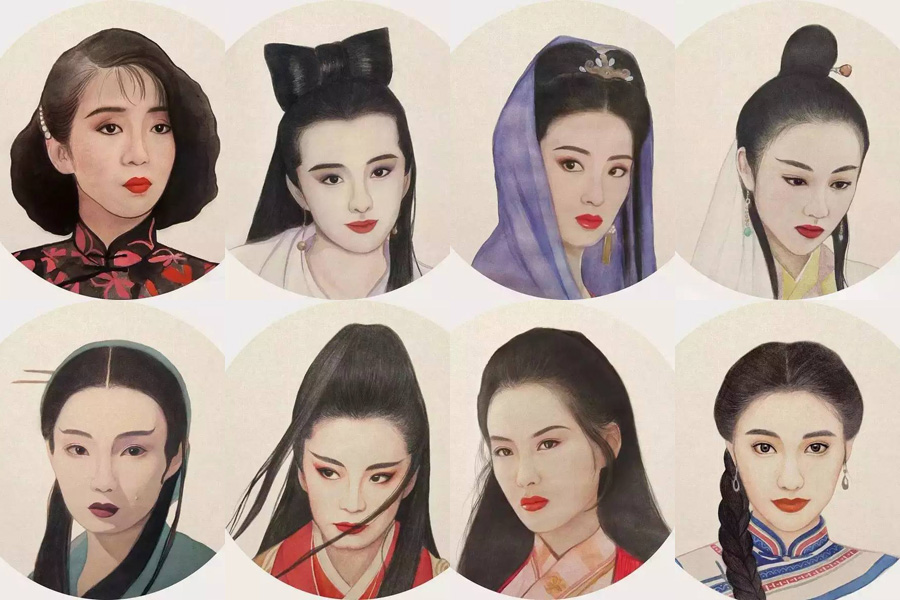 A movie fan paints some classic female roles from Hong Kong movies to express the love of Hong Kong culture. [Photo/Mtime]
Classic TV and film roles
In 2017, the return of the classic movie A Chinese Odyssey Part Two: Cinderella to the big screen, as well as the reshooting of The Legend of the Condor Heroes, strike a chord with Chinese movie-goers.
To a majority of Chinese generations, born between 1970 and 1990, the golden-twenty-years (1980-2000) marks an unforgettable period of Hong Kong culture.
During this period, a large number of influential TV dramas, films and musical albums were produced.
Taking the Hong Kong film industry as an example, the golden twenty years helped Hong Kong to win the attention of many at home and abroad.
Hong Kong films flourish in all genres from comedy to thrillers, action movies, traditional combats, romance and literary films.
Some vivid characters from movies have also shaped the way people think of the certain topics in the daily life.
When talking about qipao, for example, most Chinese people think about the romantic lady Su Li-zhen, who was played by Maggie Cheung, in the movie In the Mood for Love. The actress was reputed in China as the "most beautiful woman in qipao" by most Chinese online netizens.
Then, in the hit South Korean TV soap Reply 1994, university students would often speak high of the Hong Kong actress Joey Wong. During one scene of the series, a man asked "who is the most beautiful woman in the world?" and the man he was speaking to replied "Nip Siu-sin".
Nip Siu-sin is actually a classic ghost image in the Chinese legend, who lures young men to their death in a bid to keep herself young and beautiful. The character was played by Joey Wong in the romantic comedy movie A Chinese Ghost Story. The film was popular in Hong Kong and several Asian countries, including South Korea and Japan.
Also, the love story Farewell My Concubine, released on January 1, 1993, was the only Chinese film awarded the Palme d'Or at the Cannes Film Festival.
The classic role from a certain movie, the melody song from a certain album all call wake up our best memories.
Now, a few renowned female celebrities and their classic roles have been listed below: