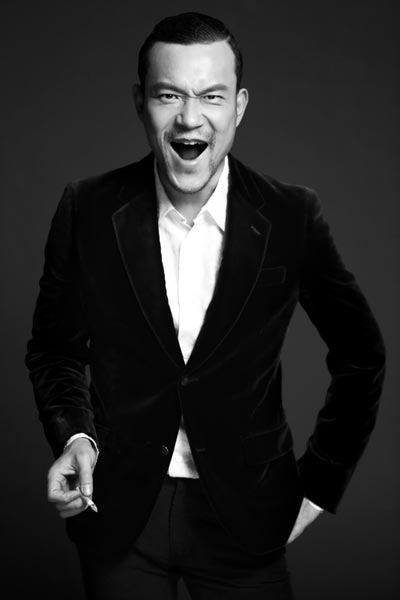 The Berlin Silver Bear winner Liao Fan is known for his wide acting range,but mostly as a character actor. Photos Provided to China Daily
Liao Fan makes the best of whatever role that falls into his lap, nabbing a 'Silver Bear' from Berlin for his eye-catching turn in Black Coal, Thin Ice. He's not going to rest on his laurels. He will continue to take risks, writes Raymond Zhou.
Liao Fan is a risk taker. It is hard to detect a common theme running through the more than 50 roles he has done on screen and stage.
"I never thought about commonality," says the prolific actor. "I took whatever came along. I didn't have much choice then. As long as the role was interesting, I'd take it. Now that I think about it, the leading roles I took tended to be losers who lived on the edge. They are intense and need an outlet, sometimes resorting to extreme means..
Liao just won the Silver Bear for Best Actor at the 2014 Berlin International Film Festival, the first time a Chinese actor was so feted in this category. He is not considered leading man material, having appeared in only a handful of big roles on screen in his career. Yet, he pops up in so many movies and television dramas, albeit in supporting parts, that both his name and his face are recognizable to many people. His win of the coveted Berlin kudos has been jokingly nicknamed "the revenge of the second banana".
He does not mind. "The second banana is indispensable anyway," he quips.
When news of his surprise win reached his homeland, social media went abuzz with notes of congratulations - from those who seemingly had known him for a long time. The press counted the guest list when Huayi Brothers, a film company that cast him in several earlier movies, threw a celebration party for him upon his return, and concluded those who attended were his "real" friends, not fair-weather ones hogging the coverage.
However, for those who put some heart into watching Liao's performances in roles big or small would not be taken aback by his victory. No matter how fleeting his screen time, he is able to make it juicy and add an imprint with his unique portrayal.
Related:
Chinese film 'Black Coal, Thin Ice' screens in Berlin
Kwai Lun-mei's new film explores bizarre reality