Singer Adam Levine named People's sexiest man alive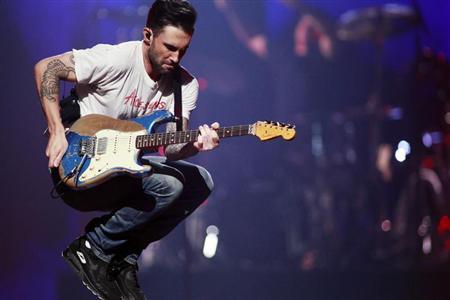 Maroon 5 lead singer Adam Levine jumps as they perform during the iHeartRadio Music Festival in Las Vegas, Nevada September 21, 2013.[Photo/Agencies]
Singer Adam Levine, the frontman of the Grammy Award-winning rock group Maroon 5 and a judge on the hit NBC singing show "The Voice," was named People magazine's sexiest man alive, the magazine announced on Tuesday.
The 34-year-old singer-songwriter, who is engaged to Victoria's Secrets model Behati Prinsloo, told People magazine he was taken aback by the announcement.
"As a musician, you have fantasies that you want to win Grammys, but I didn't really think that this was on the table," Levine said.
"I was just amazed and stunned and it almost seemed like they were kidding, but they weren't, so that's cool."
Levine joins an illustrious list of prior winners of the award including Channing Tatum, Brad Pitt, Johnny Depp, Ryan Reynolds, George Clooney and Matt Damon.
The singer branched into acting last year with his debut role on the television series "American Horror Story." He also appears in the 2013 film "Can A Song Save Your Life?" with Keira Knightley and Mark Ruffalo. The movie premiered at the Toronto International Film Festival.
"This is just a really interesting time where everything seems to be heading in a certain direction," he said. "And I'm not taking any of it for granted."
Levine and Maroon 5 launched their fourth studio album "Overexposed" last year, which received mixed reviews from critics. The group shot to fame in 2002 with their debut album, "Songs About Jane."
The group's hit singles include "This Love," "She Will be Loved" and "Moves Like Jagger," which features Christina Aguilera.、
Related:
Sofia Vergara highest paid actress on US TV, again: Forbes
Cowell, Stern highest paid personalities on US TV
Angelina Joliehighest earning US actress
'Iron Man' Robert Downey Jr. leads Forbes' highest-paid actors