Justin Bieber meets Canadian PM in overalls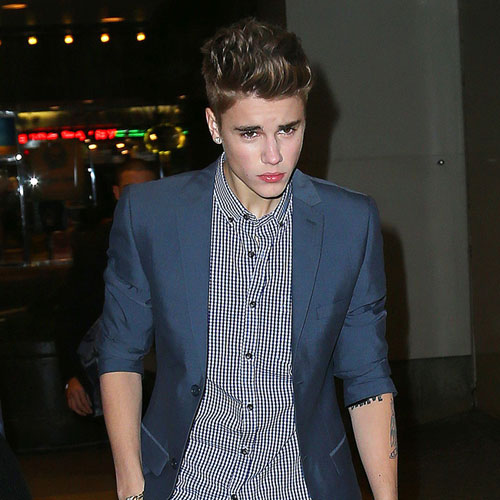 Justin Bieber met the Canadian Prime Minister in dungarees and a baseball cap.
The pop sensation accepted a Diamond Jubilee Medal - which celebrates Canadians who have achieved greatness abroad - from PM Stephen Harper last Friday (23.11.12) in a casual outfit of half-undone overalls, the cap which he wore backwards and some sparkly bling.
The 18-year-old singer tweeted: "Overauhls. Lol (sic)", adding: "I met the Prime Minister in overalls lol. I hope you hate my style. (sic)"
The singer - who is thought to have reconciled with his girlfriend Selena Gomez - was angered by subsequent comments from furious twitter users and decided to defend his bizarre sartorial choice.
Related: Selena Gomez to work alongside Justin Bieber
He posted: "The pic of me and the Prime Minister was taken in a room in the arena where I was performing at that day/ I walked straight from my meet and greet to him, if you ... expect me to have a change of clothes let a loan ... a suit at that specific time that's crazy.
"It wasn't like it was like I was going into his environment we were at a hockey arena. Wow am I ever white trash. (sic)"
However, the Prime Minister saw the funny side of the situation, writing on the social network: "In fairness to @justinbieber, I told him I would be wearin my overalls too. (sic)"
Related: Bieber, Jepsen perform at CFL Grey Cup
The trouble wasn't over for Justin, who was then ferociously booed by the crowd when he performed at a football match for Canada's Grey Cup on Sunday (25.11.12) as he warbled through a medley of his hit songs 'Boyfriend' and 'Beauty and a Beat'.