China's Alipay introduced to Finland's biggest department store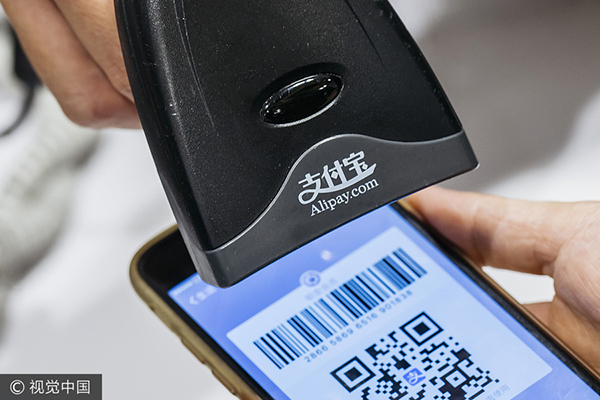 An employee scans a quick response (QR) code displayed on Alipay app at a store in Hong Kong, China. [Photo/VCG]
HELSINKI - Finland's biggest chain of department stores Stockmann agreed on Friday to install China's Alipay as one of its payment methods.
The move was considered a milestone for the Chinese mobile payment platform to be recognized in Europe.
The first sale ever done through Alipay at a Stockmann cashier desk was operated on Friday morning by the giant retailer's chief commercial officer Anna Salmi, who sold a pair of glass mugs to Yin Wei, chief financial officer of Finnish mobile payment company ePassi, Alipay's partner in Finland.
Yin spent a few seconds in scanning the barcode and confirming the payment before he took over the parcel from Salmi. "I hope this represents the future of payment method in Finland," he said.
As Yin explained, the money will be transferred in the background from the customer's Alipay account to ePassi and further to Stockmann.
Salmi said she was not surprised by the speed of the transaction, as she had seen it on internet before. What made her most excited was the fact that Alipay is much more than a payment method.
"For us it is part of the deal to help the customers with pre-know -- what's here, what we offer, what services that we have, hopefully at some stages even open a dialogue box where customers can get service," Salmi told Xinhua.
"It is about also managing the expectations, and getting those from the right level. (We) hopefully get some feedback as well through that channel. That will help us to develop our services to be more suitable for the Chinese tourists," she added.
The Chinese tourists have been the second biggest national group at Stockmann, following Finland's neighboring country Russia.
"With the speed that it has been growing, I think it's very meaningful for us, as Alipay is the key payment method for the Chinese tourists," said Salmi.
Now that the new system is in place, an internal training for the employees to adapt to the payment method will be carried out soon. Salmi predicted the overall launch of Alipay in the flagship department store in central Helsinki would start in the middle of September.
An effort to expand the use of Alipay more widely to other Stockmann shops in Finland and in the Baltics is optional, according to Salmi.
In a country where bankcards have been available since 1980s, Finnish citizens have been relying on bank cards and the banks are backing this traditional payment heavily. The situation seems challenging for emerging mobile payment players.
"Only lately the mobile payment has become a general payment thanks to our cooperation with Alipay," said Risto Virkkala, CEO of ePassi, noting that the cooperation has had its merchant network expanded rapidly as well.
While the Western Europe is still relying on the old legacy, Chinese mobile payment ecosystem has been developed from scratch to become quite mature.
"China is way more advanced in mobile payments," said Virkkala. He told Xinhua that he believed "the approach is now coming to Europe."
With some 600,000 customers and 30 percent market share, ePassi has become the biggest mobile payment operator in Finland with a vision to expand to the whole Nordic area as well.
In collaboration with ePassi, Alipay was first introduced to Finland last year, and the business was highlighted by a launching ceremony of the Single's Day global online shopping festival in Rovaniemi, an arctic tourist destination in northern Finland.
Early this year, Finland's national carrier Finnair activated Alipay on its flight from Shanghai to Helsinki, becoming the first airline to offer the online payment system onboard.