Big can be beautiful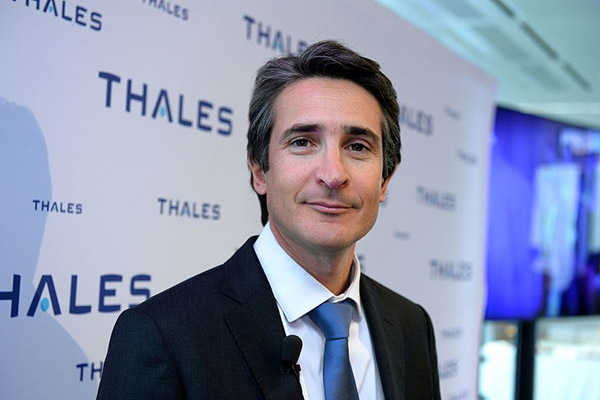 Patrice Caine, chairman and CEO of Thales Group. [Photo/VCG]
The CEO of Thales aims to double the group's business in China during the next five years and take advantage of the booming aerospace sector
Patrice Caine runs a global juggernaut and one of the biggest corporations in Europe.
Thales Group has its headquarters in La Defense, a business district in Paris, France, and employs 64,000 staff worldwide, including 25,000 engineers, and research and development specialists, in 56 countries.
With a business portfolio which includes aerospace, defence, security and space, the French company is a major league player.
"More than 17,000 of our employees are working on systems and software engineering," said Caine, chairman and CEO of Thales. "We are known for electronic equipment, but our real added-value is in systems and software."
In the first half of this year, the group's intake of orders increased 10 percent to 6 billion euros ($7.05 billion) compared to the same period in 2016.
Sales jumped 5.9 precent to 7.24 billion euros during the same period, while adjusted net income climbed 15 percent to 424 million euros.
"At the end of June, Thales once again confirmed its growth momentum, with a solid order intake and a 5.9 percent organic sales growth, ahead of the full year target," Caine told the groups' website.
The results reflected the strength in Thales' four core digital technologies of connectivity, data analytics, artificial intelligence and cybersecurity.
In a far-reaching interview with China Daily, Caine talked about how Thales aims to double its business here in the next five years, how partnerships are in the company's DNA and why R&D is crucial for the future.
How can your company help in China's development?
The country has invested a great deal to improve and develop its communication infrastructure. China continues to upgrade and expand these systems, and we can support this development.
Air traffic control management is just one example as it is widely known that our skies are highly congested. It is not a criticism, it is a fact of life and it is not specific to China.
Clearly, to support the development of this country, there is a growing need to improve China's airspace. We need to reduce congestion with a more fluid air traffic control management.
What business opportunities might arise through the Belt and Road Initiative?
When I look at the Belt and Road project, I see great vision. We have enjoyed working with our Chinese partners, so if it is the right thing to do, and we can contribute to this fantastic adventure, we will.
Thales would also be interested in forming partnerships with companies from other economies involved in the Belt and Road Initiative.
We are currently in a large number of countries, so we can leverage not only our presence in China, but also our presence in the region.
What is your opinion about the Chinese economy?
Many nations across the world can only dream about the sort of GDP growth (of 6.9 percent) that China published the other day.
As for our company, figures released about air traffic management show the industry is booming along with avionics, aerospace and ground transportation sectors. And GDP growth is important because it highlights the dynamic qualities of the economy.
What are your views about globalization?
Thales has benefited through globalization because we have developed an ability to be "local" in the countries and regions we operate in. For example, about 95 percent of our 1,300 staff here are Chinese citizens.
Each time we develop a business in a country, we always strategically align ourselves with the vision of the government, especially in our domain. After that, we build a local foundation.
Will your digital division generate company growth?
More than 17,000 of our employees worldwide are working on systems and software engineering. The group is known for electronic equipment, but its real added-value is in systems and software.
That is why I say we are already a digital technology-driven company by nature, or by definition or construction.
We see our four core digital technologies, of connectivity, data analytics, artificial intelligence and cybersecurity, paving the way for Thales in the future.
We have already invested about 1 billion euros in the past two to three years to reinforce the group in these four crucial areas.
What is your market priority in China?
We are clearly in the business segments that are booming here. In ground transportation, we partnered with Shanghai Electric Group Co in the field of the urban rail signaling systems.
The urban rail market in China is expanding quicker than anywhere else in the world. The country already has more than 50 percent of all the new metro lines globally.
A second, key example is aerospace. We are worldwide leaders in avionics.
Every day there is a new aircraft delivered to a Chinese airline and air traffic is growing very, very fast.
Do you ship products made in China to other countries?
Yes, we have already developed a presence for in-flight entertainment products here, which are complementary to our IFE presence outside China.
Our expertise in this field does not only serve Chinese airlines, but also airlines across the world. Again, the product was originally designed for the C919. But we intend to sell it to other global airlines.
What is your biggest achievement in China as CEO of Thales Group?
To be frank, that is not an easy question to answer as it takes time. We are a long-term business, so it would be very immodest to say that during the past two years something has radically changed here.
We started in Shanghai in 2011 through our joint venture, TST, with our partner Shanghai Electric Group, in the urban rail signaling business. It has proved highly successful.
The development of this joint venture has been impressive. Yes, the market has been booming during this period, but we have faced challenges from rivals and prevailed.
What is your leadership strategy in China?
What is striking when I look at our Chinese team is the brilliant teamwork. You know, that is so important in our business.
The team is also pragmatic and flexible. When we face challenges, we look at the solution, instead of looking at how difficult it is.
I also believe it is critical to develop interesting career paths for young people-to be able to change from aeronautics to air traffic management or ground transportation.
What is important is that we try to align our ambition with the development strategy of the Chinese government.
How do you get along with your local partners?
Again, in our DNA we have this natural ability to put together partnerships because we are a company with an open mind.
We are inclusive and so we accept cultural differences, and promote diversity among our staff. We champion diversity and inclusion. Diversity is a strategic topic for Thales.
It helps us foster innovation and creativity through a greater variety of approaches, perspectives and ideas. In China especially, we get along well with our partners.
How do you spend your weekends away from the office?
I try to take care of the family-that is a priority of course. In fact, I spend a great deal of my spare time with them. When I have a few free hours, I play golf with friends.
CV
Age: 47
Nationality: French
Career:
2014 onwards: Chairman and Chief Executive Officer, Thales Group, France
2013-2014: Senior Executive Vice-President, Chief Operating Officer and Chief Performance Officer, Thales Group
2000-2013: Various roles and positions within Thales Group
2000-2002: Technical Advisor, the cabinet office of the French Minister
1998-2000: Human Resources, Conseil General des Mines, France
1995-1998: Special Adviser to the Prefect of the Franche-Comte region and head of the Industrial Development and Energy Division, DRIRE, France
Education:
Ecole Polytechnique and the Ecole des Mines de Paris, holds the rank of Ingenieur en Chef of the Corps des Mines