Rainbow of innovation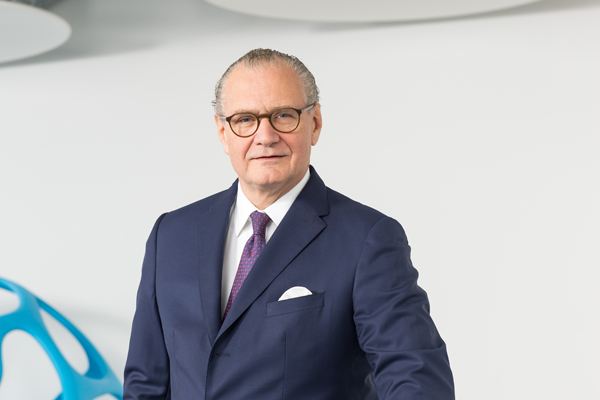 Stefan Oschmann, chairman of the executive board and CEO at Merck Group. PROVIDED TO China Daily
The head of Merck Group has merged traditional values with a modern multinational company as it expands in China
Your senses are bombarded by a rainbow of colors when you click on to the Merck Group website.
Rolled out two years ago, this flamboyant online gateway is distinctly brash for a company which can trace its roots back to 1668.
After all, the descendants of Friedrich Jacob Merck, the man who founded the firm in Darmstadt, Germany, are still involved in this global juggernaut.
"Merck is a company driven by a passion for research and discovery," said Stefan Oschmann, chairman of the executive board and CEO at Merck Group.
The company's three business divisions, healthcare, life sciences and performance materials, have thrived after a string of mergers and acquisitions.
Annual revenue is about 15 billion euros ($17.58 billion), with 2 billion euros spent on R&D last year, according to Merck's website.
With up to 50,000 employees, the company operates in 66 countries, "working on breakthrough solutions and technologies", the conglomerate reported.
Merck might be old, but the group is quick to embrace change, such as e-commerce and artificial intelligence.
"Restructuring is now ancient history and we are harvesting the fruit from those efforts," said Oschmann. "We would not have survived nearly 350 years if we were not open to novel trends."
Merck is still about 70 percent owned by the descendants of the founder. Market investors hold the other 30 percent.
Naturally, Oschmann has to strike the right balance between long-term values and short-term gains.
But his feel for what is right has helped him as the company expands in the world's second largest economy.
In an in-depth interview with China Daily, the 60-year-old CEO talked about Merck's relentless drive for innovation, business opportunities in China and his view of globalization.
How do Merck's products relate to everyday life?
In healthcare, we work in oncology (cancer treatments), neurology and multiple sclerosis. In life science, when new drugs are being developed, scientists across the world will eventually be able to use our products.
We also make performance materials. These are used for display screens and chip making (for an array of electrical goods, such as smartphones, tablets and PCs).
How do the three businesses create synergy within the company?
The synergy exists mostly in new product development and research. When you look at precision gene-editing, there is a new technology where you can introduce and influence genetic material. We are a global leader in our life science division.
We can also use this in our healthcare operation.
We also see synergies in the digital world. For example, by acquiring Sigma-Aldrich Corp (a chemical, life science and biotechnology company), we are now one of the largest retailers of life sciences in the world. People say we are the Amazon of the lab.
How does China fit into your strategic plan?
China is a very important market for us. We are on track to complete a life science facility in Nantong, Jiangsu province.
Remember, this is a country that lifted hundreds of millions of people out of poverty and gave them access to healthcare. This achievement has "no parallel in world history".
As for Merck, we need to invest in infrastructure in the next five years. We are also considering how to further digitize our business as China is an important place for that.
We plan to open an innovation hub by working with Chinese startups and academic institutions.
What is the most promising area of your business in China?
I would say it's healthcare. For example, non-communicable diseases, including diabetes, are the major health threats in the country.
Merck is the first multinational to make a 170 million euros ($200 million) investment to the production of pharmaceuticals on China's Essential Drug List for the treatment of type 2 diabetes. We are working together with the government to cope with this challenge.
The other example is about fertility. China changed its one-child policy at the beginning of last year and is a growth market for fertility treatment. Merck is a global leader in this field.
An estimated 2.5 million babies have been born with the help of our fertility portfolio. To build on this success, we are complementing our range of drugs with a growing number of fertility technologies.
As a business-to-business company, how is new technology fueling growth in China?
We would not have survived for nearly 350 years if we were not open to novel trends. So, we have a global digitalization strategy that is about developing solutions that go beyond the product.
For example, if biotech startups in China want to produce cancer medication, normally you need a bioreactor to grow the cells . . . to purify the cells. They need filters to remove contamination and you need packaging.
Historically, people bought these separately. But now customers want to buy the "full solution" through digitalized technology. So, we are working on a connected lab that allows every machine and container to talk to each other.
In pharmaceutical R&D, we define which patients respond to the best therapy.
We also aim to create an artificial intelligence-driven supply chain pioneered in China. Demands are predicted automatically and supply will be automatically prescribed through the use of machine learning algorithms.
By doing this, we expect an improvement in our service level. A smarter and more agile supply chain will enable us to address increased complexities in our business, and satisfy customer expectation.
What is your view on the subject of globalization?
I am a firm supporter of globalization. It is one of the most positive forces in world history. Globalization creates friction here and there, but if you look at how the world is today compared to 40 years ago, it is a better place.
At the World Economic Forum in Davos (Switzerland) earlier this year, there was an exciting speech by President Xi Jinping on globalization.
There was also a delegate from the United Nations who said there were two forces that had changed the world in a positive way. One was science and the other was responsible capitalism.
These two topics are very important to Merck because we are science based, and we want to be successful in our business and be responsible.
What business opportunities might arise through the Belt and Road Initiative?
We see this as China's big step toward globalization-having a more assertive role on the world scene. We are here to make Chinese industry competitive on the world stage.
For example, in performance materials, Merck's products are widely used by Chinese brands. We have liquid crystal and OLED (organic light-emitting diode) in flat panels.
We also have (color) pigments in best-selling cars such as the Greatwall Haval brand. Chinese manufacturers use our materials to give them a competitive edge.
What are the key business challenges in China?
For performance materials, we need to work hard to defend our market position by cooperating closely with our local customers.
In life sciences, we have healthy competition but need to do a better job.
In healthcare, it is about patient protection and regulatory reform.
But across all the businesses, it is about people. We work hard to retain talent. We have thousands of staff in China and many more in global positions.
Given the prominence of the market and our strategy, we want to see more Chinese people in our leadership.
What is your philosophy in life and in business?
I'm a big fan of diversity because it works. I was at a different company in the past and it was excellent. But I noticed that very intelligent, hard-working people could make the wrong decisions because of a lack of diversity in the team.
Remember, your leadership team must represent your customer base in the world. That is why I want to see more Chinese people in leadership roles.
How do you deal with pressure?
I do sports and I also meditate. During this trip to China, I spent three nights on the plane and the days working. It seems to give me so much energy to be out of our headquarters-to be in different countries, working with people and listening to what they have to say about customers, governments and reforms.
This can help me make better decisions when I return home.
CV
Age: 60
Nationality: Germany
Career:
2016 onwards: Chairman of the executive board and CEO, Merck Group, Germany
2014-16: Vice-Chairman and deputy CEO, Merck, Germany
2011-14: Member of the executive board and responsible for the healthcare business sector, Merck, Germany
1989-2011: Senior executive positions, MSD, United States
1987-89: Employed by the German Chemical Industry Association (VCI)
Education:
1985: Doctorate, major in veterinary medicine, Ludwig-Maximilian University, Munich, Germany
Family: Married with two children