How robots are shaping tomorrow's world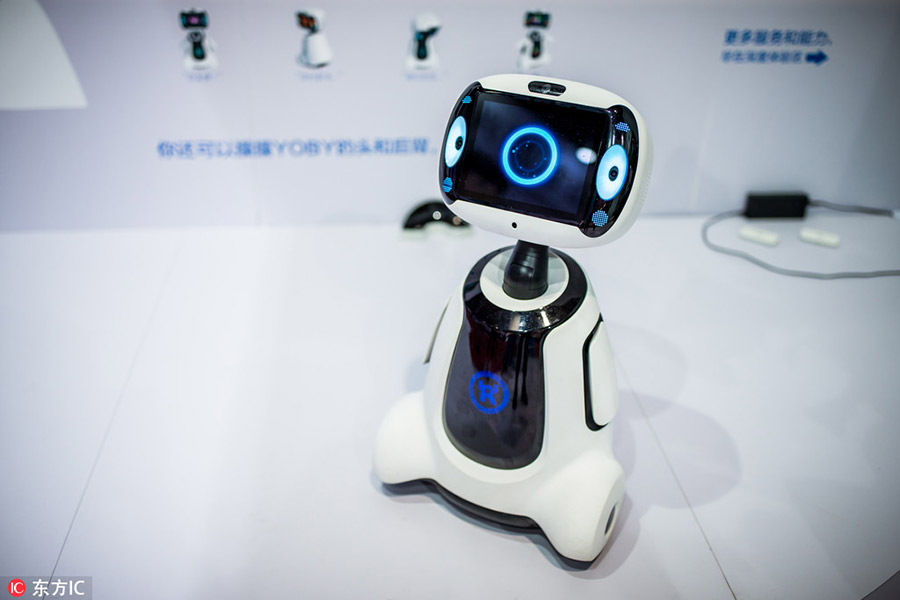 A robot displays at the ongoing 2017 World Robot Conference in Beijing, Aug 24, 2017. [Photo/IC]
Applications abound
It is not just in the fields of home service, package delivery and healthcare that robots are transforming lives. They are also being used to battle fires, serve restaurant customers and even write news reports.
Robotics is a booming market. The International Federation of Robotics forecasts that China's robotics industry will be worth $6.28 billion this year, after exceeding $5 billion for the first time in 2016.
China is now in the critical stage of its "Made in China 2025" blueprint, a plan to move manufacturing up on the value chain, developing several key sectors, including robotics.
However, its robot density - measured by the number of robots per 10,000 manufacturing workers - was 49 in 2015, compared with the world average of 69. There is still plenty of room for growth.
Robots are not necessarily welcome in all fields, and people are anxious about their capacity to cause harm. Scientists from around the world have called on the United Nations to take action to stop the proliferation of "killer robots."
Wang Feiyue, with the Institute of Automation at the Chinese Academy of Sciences, believes that people do not need to worry about artificial intelligence.
"Some see it a disaster, which will result in unemployment," he says. "But it is not the case. After the steam engine was invented in the industrial revolution, people had similar anxiety. But they were not replaced. They still had jobs, working with the help of machines."
He agrees that problems might crop up in the short term, but believes this can be handled.
"In the long run, robots will not replace human workers. Maybe 90 percent of the work could be done with the help of robots," he says. "Human beings are masters, not slaves, of artificial intelligence."