How robots are shaping tomorrow's world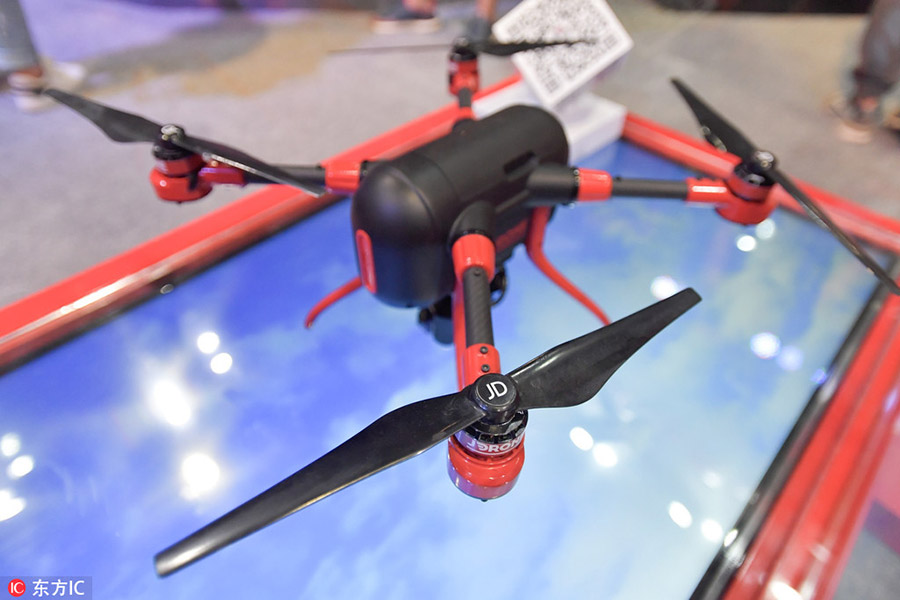 JD.com's drone displays at the ongoing 2017 World Robot Conference in Beijing, Aug 23, 2017. [Photo/IC]
Delivery robots
In another booth at the exhibition hall, Chinese e-commerce platform JD.com is displaying its robot courier and drone. If used widely in the future, it will reduce costs and raise efficiency in the logistics sector.
The company uses a white robot courier, weighing around 200 kg, in at least four universities, according to Zhang Zhitong, senior manager with JD.com's PR department.
The robot courier is capable of avoiding obstacles and mainly used in urban areas. For remote rural areas, JD.com is developing drones that can deliver packages by passing through mountains, rivers and forests.
Zhang says that dozens of drones are being used in the city of Xi'an in Shaanxi province, and the city of Suqian in Jiangsu province. Last month alone, more than 3,000 orders were delivered by drone in Suqian.
China's logistics costs accounted for 14.9 percent of GDP in 2016.
"The ratio was significantly higher than developed economies," Zhang says. "Lower logistics cost will have a great impact on Chinese society."
Some worry the robots will cause workers to lose their jobs, but Zhang disagrees.
"The technological revolution will not lead to unemployment. It will push people to adjust to new jobs. Delivery workers can learn about managing and maintaining robots or flying drones," he says.