Smartphone rental business emerges, but market response lukewarm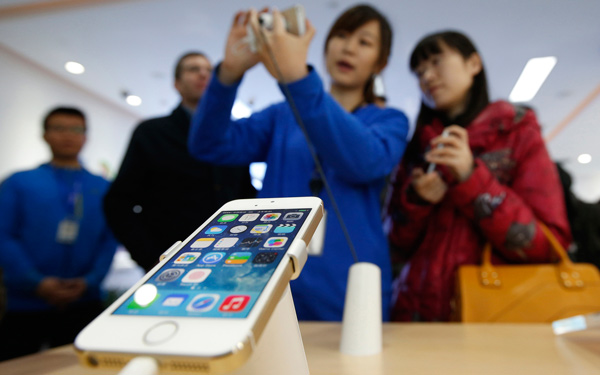 A staff of a China Mobile shop explains a function of the iPhone 5s to a customer in Beijing January 17, 2014. [Photo/Agencies]
Mobile rental is heating up under the context of shared economy. Customers can rent a new iPhone for one year at the cost of 9.9 yuan a day, but owing to some concerns, this business is attracting fewer customers than expected, Beijing Daily reported.
Gome, a home appliance giant, recently announced that over 1,600 stores in China have officially started a smartphone rental service. Customers can rent an iPhone 7 (32G) for a whole year for 300 yuan ($45) a month.
The policy was made according to a big data research, which shows customers change their mobile phones every 17 months on average. Renting a phone enables users to experience the latest phone at a lower cost, a Gome staff in charge of the service told Beijing Daily.
Besides Gome, a dozen giant companies are offering mobile rental services, including e-commerce giant JD.com, China's big payment service Alipay, and some startups.
Monthly payments can ease pressure on those who like to use the newest phone every year. However, customers have given a lukewarm response to phone rental service due to its cost and information security.
A second-hand iPhone is worth less than 1,000 yuan ($15). To rent one is not that much cheaper than buying one on installments. Moreover, people worry about their privacy, even though the service providers promise to guide renters to restore the default settings and remove private information at the end of the contract.
Mobile phones have recently transformed from durable goods to fast moving goods. Next year's phone will be a main trend, Chen Liteng, an analyst of CIECC said.
The experience of new functions is the reason why people change their phones, something phone rentals can help with, Chen added.
An insider said that smart phone rental has a large market, but it is better to focus on those who cannot afford a one-off payment and those who like to frequently change their phone.
Mobile phone rental is still in the incubation stage. With proper operation, this new service will not only reduce waste, but also become a good investment choice, the analyst said.