GoPro, which makes wearable sports cameras and accessories, recently unveiled its long-awaited consumer drone, aiming to ignite consumers' enthusiasm for distinctive video-making experience.
Dubbed Karma, the device is priced at $799.99 and will go on sale in China on October 23.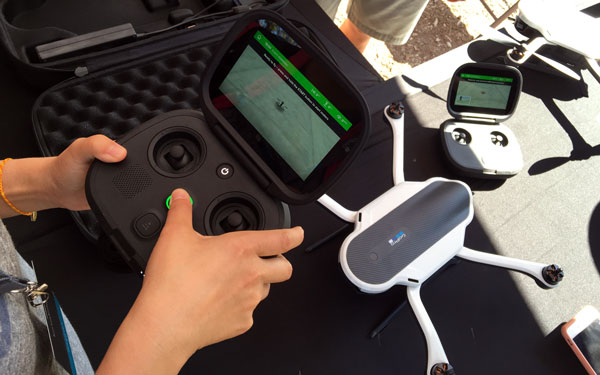 Karma's remote provides a video tutorial that simulates the conditions of flying the drone. [Liu Zheng/chinadaily.com.cn]
It features a compact, fits-in-a-small-backpack design and includes an image-stabilizing grip that can be handheld or mounted on vehicles, gear and more.
Nick Woodman, founder and CEO, said in an interview that the drone, unveiled together with the company's latest action cameras Hero 5 and Hero 5 Session, is not just a piece of hardware but an end-to-end solution that provides content building and sharing under its own ecosystem.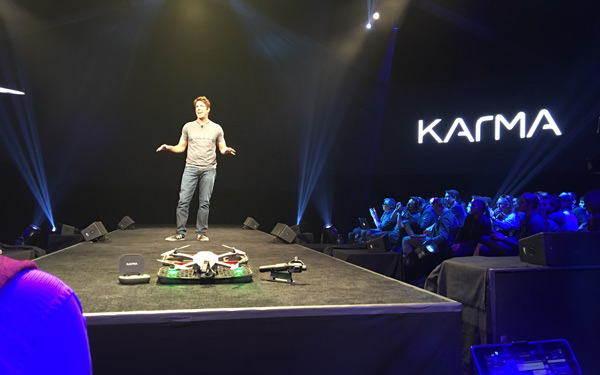 Nick Woodman, founder and CEO of GoPro Inc, unveils Karma during the company's products launch event held on September 19, 2016 in Squaw Valley, California. [Liu Zheng/chinadaily.com.cn]
"The more people, whether they own a GoPro or a smartphone, become visual storytellers, the larger our market share will grow," said Woodman.
After years of investment boom in the drone sector in China, analysts say newcomers have to create new application scenarios to stimulate people's interest.
Jean Xiao, a research manager who tracks drones and virtual reality at IDC China, said the sales of the GoPro drone will increase thanks to the number of GoPro's existing user base and the rise in fans of the brand in the country.
"Compared with other quadcopters, the foldable drone has a higher price tag but is easier to handle," said Xiao. "Meanwhile, due to the limitations of the existing technologies in the consumer drone industry, policy regulations, such as flight duration and altitude, will not pose a big challenge to the device."
Given the superior price and limited differentiation of the product, Xiao predicts that Karma will face a fierce competition with domestic brands in the country's market.
"As performances of drones' CPUs get improved by chipmakers, such as Intel, Qualcomm and Nvidia, and also the technology integration with VR and artificial intelligence gets better, the next generation drone will become 'smarter'," she said.
Chris Fang, senior client service executive at another consulting company GfK Retail and Technology China Co Ltd, also noted that the launch of Karma will push forward the brand awareness of GoPro in the consumer drone market.
He said the removable 3-axis camera stabilizer and Karma Grip, which are shipped with the drone and available for capturing smooth handheld and gear-mounted footages, are creative combination rather than innovations.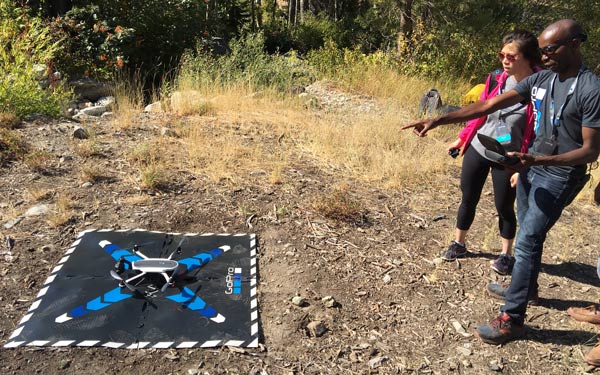 Staff member of GoPro demonstrates Karma to press after the company's products launch event held on September 19, 2016 in Squaw Valley, California. [Liu Zheng/chinadaily.com.cn]
Similar China-made handheld stabilizers have been on the market for several years and have secured a certain number of loyal users from the globe.
"The industry is expecting a double-digit growth each year despite a tepid market," said Fang. "Technology bottlenecks such as battery life, facial recognition and obstacle avoidance and regulation uncertainty have all been considered in upcoming solutions."
According to Fang, compared with domestic maker Xiaomi's price-oriented product and DJI's tech-centered drone equipped with optic flow sensor, GoPro's own user generated content platform will contribute to its own sales volume and support the brand's business expansion.
The existing consumer drone market consists of three segments: aerial photography drones, handy drones with foldable airfoils and entertainment and sports drones.
In late May, Beijing-based ZeroTech Intelligence Technology Co Ltd unveiled a pocket drone that specifically focuses on selfie. The product sold more than 10,000 units in the first month after it was launched.
Statistics from IDC China's latest report show that in the first quarter of 2016, DJI dominated 70 percent market share of aerial photography drone. More products will make debut and drive the industry's development from variety of perspectives in the near future.
After GoPro stepped into the consumer drone sector, more products manufactured by other brands, such as DJI, 3D Robotics and Parrot, are expected to launch new gears in the market.
According to Beijing-based iResearch Consulting Group, the value of China's drone industry could rise as high as 75 billion yuan ($11.4 billion) in the next decade.
At the end of 2025, the drones will be used largely for aerial photography, farm chemical spraying, forest protection and security, it said, adding that the civilian drone market has grown more than 50 percent in recent years.