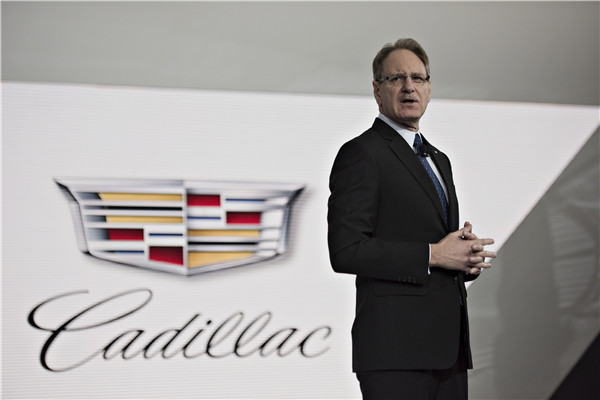 Johan De Nysschen, president of Cadillac and an executive vice-president with parent company General Motors Company.BLOOMBERG
With a mission to restore Cadillac's image, De Nysschen sees future in China
Once an iconic luxury car brand in the United States, Cadillac has seen its market share slip to rivals like BMW and Lexus. Johan De Nysschen is trying to recapture the magic that made Cadillac a world-wide symbol of automobile luxury.
To help accomplish that task, de Nysschen expects China to play an important role in the resurgence of the company and the brand.
De Nysschen, 55, was appointed president of Cadillac and an executive vice-president with parent company General Motors Company in 2014 after serving as head of Nissan Motor Co's Infiniti luxury-car division.
He is responsible for all aspects of Cadillac globally. This includes sales, pricing and network development as well as strategic brand development and marketing.
Other responsibilities involve product portfolio planning, including providing critical input for product engineering and design-as well as overall business results.
At Infiniti, De Nysschen oversaw a move to new headquarters in Hong Kong from Tokyo and overhauled the company's product plan. Before Infiniti, De Nysschen was president of Audi America Inc, at Volkswagen Group of America Inc from 2004 and was in charge of business in the US. De Nysschen was also a member of the executive board of Volkswagen of America Inc.
Earlier this year De Nysschen said Cadillac was aiming to produce an 11 percent operating margin in 10 years as part of the unit's turnaround plan.
De Nysschen has moved Cadillac headquarters from Detroit to offices in New York's trendy Soho neighborhood. He adopted an ambitious product development schedule with 11 new Cadillac models in the pipeline that will be introduced over the next five years.
De Nysschen believes that Cadillac is poised to do great things in the future. Recently, he talked with China Daily about the company's strategy, business opportunities and prospects. The following are edited excerpts from the interview:
How has China's New Normal affected Cadillac's operations in the country?
Despite the New Normal of single-digit economic growth, China set a record for vehicle sales in 2015. The China market is expected to continue growing, but growth will moderate and diversify.
We expect an additional 5 million units or more of growth in China's vehicle market by 2020 to 30 million units, up from 25 million units in 2015. We expect China's luxury segment alone to generate compound annual growth of more than 10 percent through 2020.
We are very well positioned to participate in that growth. Cadillac will localize more production in China, which will fuel additional growth.
Car sales have been good in China in the past few months. How have luxury sales been performing and how has Cadillac fared?
China represents a key opportunity given it is a very strong market with rising demand for luxury vehicles. It is a crucial market for Cadillac's growth.
In 2015 alone, Cadillac deliveries in China were up 17 percent to a record 79,779 units. In May, Cadillac deliveries rose 30 percent from a year earlier to 8,568 units.
Demand for both the XTS and ATS-L luxury sedans topped 2,400 units. The XT5 luxury crossover had deliveries of 1,449 units in its first full month on the market.
We have grown our market share in the luxury segment and expect Cadillac's deliveries in China to grow by 25 percent to 100,000 units for 2016 as a whole.
Cadillac's GM sibling Buick does well in China. What can Cadillac learn from Buick?
Like all our brands in China, Cadillac is focused on the segments where the demand is strong and growing. This has been a key to our success from day one.
We are earning customers for life by providing products and services they really want. Cadillac will also continue to localize more entries for production in China while offering a very high level of customer service.
Cadillac opened a new plant in Shanghai earlier this year. What vehicles are made there and how is the plant performing so far?
Production at the new plant in Shanghai has been ramping up since we began manufacturing two models this year-the Cadillac CT6 prestige sedan and Cadillac XT5 luxury crossover.
The flexible and intelligent state-of-the-art manufacturing facility will support the growth of the Cadillac luxury brand in China while strengthening our overall industry position.
How is your management team in China divided between Chinese and expats?
Our management team in China includes local nationals and expats from the US and other countries. The team works closely together and with Cadillac's global team. Together we continue to do what is best for Cadillac and our customers-delivering the best products and ownership experience to the Chinese market.
Is there a leadership style that is particularly effective in China?
Continuing our success in this dynamic market requires being open-minded. We need to listen to the market and customers and react accordingly. We also need to strengthen partnerships and create more win-win opportunities.
Cadillac faces stiff competition in China and the US luxury car market. What does Cadillac have to do to distinguish the brand from BMW, Lexus, Mercedes, etc. in each country?
Cadillac is a unique US luxury brand in terms of its technology and design. It is not copying German brands. Cadillac has been outpacing the luxury segment as a whole in terms of growth. Our priority is to continue to grow Cadillac's portfolio, strengthen its brand identity, and expand its dealer network and local manufacturing to keep up with increasing demand. Cadillac has many new products and next-generation versions of current vehicles on the way.
I assume you have been to China. If so, during your trips to China, is there a place or area that particularly impressed you?
I had an opportunity to stay at the Diaoyutai State Guesthouse in Beijing-it is very beautiful and it was a very memorable experience.
What hobbies do you have?
I am very interested in motorsports, architecture and like to travel to new places, to observe culture, history and scenic splendor.