Great Wall launches new Wey brand but faces uphill struggle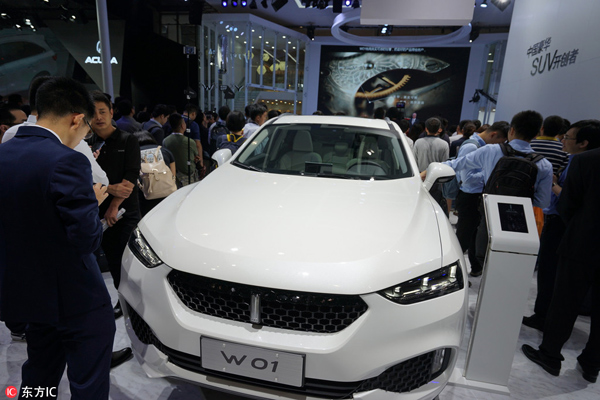 Visitors look at a Wey W02 of Great Wall Motor on display during the 14th China (Guangzhou) International Automobile Exhibition, also known as Auto Guangzhou 2016, in Guangzhou city, South China´s Guangdong province, Nov 18, 2016. [Photo/IC]
Wei Jiangjun, chairman of Great Wall Motors Co Ltd, has set out once again to expand his vast business empire, this time in a way that bears his own hallmark.
The 52-year-old started his automotive career by operating a collectively-owned and almost bankrupt garage in 1990 in the small city of Baoding, Hebei province, where he was born and raised, and where Great Wall Motors is still based.
Out of the garage, Wei conjured China's most popular pickup and SUV maker, and a family wealth of around 39.5 billion yuan ($5.7 billion), but he aspires for more.
On the evening of Nov 16, the entrepreneur, who rarely appears in the limelight, went onstage to unveil the carmaker's new brand, Wey, an attempt to move into the country's high-end SUV market.
"The brand is named after my family name. Doing that means I will defend the brand's honor like I defend that of my family," said Wei, with a hint of Baoding accent.
The brand's logo is said to be inspired by a flag mast in front of a local government office that dates back to imperial China, and makes his aspiration apparent: building a flagship SUV brand.
To fulfill his ambition, he has hired Jens Steingraeber, who was responsible for Audi Q3's development, as the brand's CEO. Former designer of the BMW X5 and X6, Pierre Leclercq, will serve as head of design, and 10 billion yuan has been invested in research and development since the program started in 2012.
Wei said the brand is positioned as an accessible luxury SUV brand with its mainstream products to be priced between 150,000 and 200,000 yuan, predominantly occupied by models from international brands.
Great Wall's popular Haval models have a relatively low price range of 80,000 to 150,000 yuan.
"Our mission is to end the age in which international brands profiteer in the segment in China," Wei, with his sleeves rolled up, told a small group of reporters after the brand was unveiled.
Two SUVs, the W01 and W02, were shown at the brand launch. A total of three models, including these two, will be launched in 2017 and another two will follow in 2018.
John Zeng, managing director of LMC Automotive Consulting Shanghai, said Wey is "very likely to succeed" because of Great Wall Motor's large customer base.
He said it is a natural choice that the automaker wants to move upward, now that it is already well-established in the market.
Its Haval SUVs are bestsellers in China. More than 680,000 units have been sold in the last 10 months, seizing a 10 percent market share.
"In fact, I think it is time for all Chinese automakers to consider what they can offer to their current customers when they want to buy more expensive cars in the coming years," said Zeng.
Great Wall Motors is not the first to come up with a high-end brand. Chery Automotive unveiled Qoros with Israel Corp in 2007, but it remains a little-known brand and its annual sales are almost negligible in the huge China market, where about 20 million vehicles are sold each year.
Late last month, Geely launched its high-end brand, Lynk & Co, in Berlin and showcased its first model.
Li Shufu, the automaker's chairman and founder, stressed how the strong R&D ties between Geely and Volvo, a company it acquired six years ago, led to the new product.
A Deutsche Bank report said the platform co-developed with Volvo AB will differentiate Lynk& Co models from Geely cars, but Great Wall Motors may find it hard to persuade customers to pay extra money for Wey, a better-equipped car built on platforms similar to its Haval.
"We remain doubtful if this attempt will be successful," said Deutsche Bank in its report, and suggested "holding" on the automaker in the Hong Kong stock market and "selling" in the Shanghai market.
Bill Peng, a partner with Strategy&, PwC's strategy consulting group, said Wey's biggest challenges are technological strength and brand building.
He said Great Wall Motors' engines rank far behind local Chinese automakers and that the brand may suffer from a large portion of its senior engineers' resigning about one and a half years ago.
The launch of Haval H8 was delayed twice for technological problems. Since it finally hit the market in April 2015, its sales hover around 500 vehicles each month, almost negligible when compared to H6. Wei admitted that he felt he had met his Waterloo in the H8 program.
Peng said brand building will prove to be another headache. "Imagine the scene: A driver in Central China's Wuhan will not feel proud when he or she drives a car that has a flag mast in Baoding as its logo."
An even more grim challenge is China's passenger car market. Peng predicted the double-digit growth rate this year will plunge to lower than 5 percent in 2017 due to the slowing economic growth and changing government policy.
The chilly market may not improve before 2019 but these two years happen to be crucial for the brand to win market recognition, said Peng.
"There might be chance if it can survive the hard years, and what I can do is to wish him (Wei) good luck."