Audi dealers fight new venture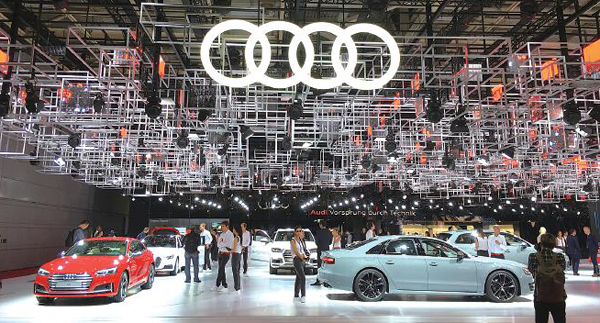 The Audi booth attracts visitors at the 2016 Paris auto show. LI FUSHENG / CHINA DAILY
Audi dealers fight new venture German premium car brand at odds with sellers over recent deal with SAIC Motor
The clock is ticking and there is still no sign of a handshake between Audi AG and its dealers in China, who have been locked in a stalemate for a week.
Some 30 Audi dealers voiced their concerns last Monday to executives from Audi AG, Audi China and the brand's first partner in China, FAWVolkswagen in Foshan, Guangdong province, about Audi's plan with Shanghai-listed SAIC Motor to produce and sell cars, but the talks soon broke down.
Two days later, dealer representatives showed their trump card: through the China Automotive Dealers Association's WeChat account, they threatened to stop taking in Audi cars and make public their conflicts with Audi "if it cannot offer a clear and satisfactory answer about how to protect our interest before Dec 1."
Dealers are also demanding compensation from FAW-Volkswagen, although the amount is not specified, saying that the automaker has set unrealistic sales targets and mislead them into building more outlets.
The 21st Century Business Herald newspaper reported that the amount could be as much as 20 billion yuan ($2.9 billion).
A source at the China Automotive Dealers Association told China Daily that dealers did not propose the amount of compensation at the Foshan talks, as losses vary from one dealer to another.
Neither Audi China nor FAW-Volkswagen's Audi sales division have been reachable for comment.
Shen Jinjun, the association's president, said the two sides should solve conflicts through dialogues and Audi should lower its sales target and its pace of expansion.
Zhang Zhiyong, an independent auto analyst in Beijing, said dealers will not stop the Audi-SAIC cooperation.
He said what they expect is to protect their interests from competition and are probably demanding some privilege, such as priority in becoming dealers of Audi cars produced at SAIC Volkswagen.
"That would be a win-win for Audi and the dealers. Many of the dealers have a deep understanding of the brand, and they can do a better job than new recruits in promoting Audi's development in China," said Zhang
The hostility between the two sides started when SAIC Motor signed a memorandum of understanding with Audi's parent company, Volkswagen AG, on Nov 11 to produce and sell cars.
The dealers soon released a public letter online, saying that building a new sales company will damage their interests, as they are already faced with high inventory and other financial pressures, and that they fear increased competition as a result of the joint venture.
The two sides held their first round of talks on Nov 15. An Audi representative said he had high respect for the dealers and would like to provide solutions.
At a press conference on Nov 17, Audi China President Joachim Wedler said Volkswagen has long-term experience in how to deal with the 'one brand, two parties' model, under which he has experienced substantial business success.
He said Audi had worked out a 10-year development plan with FAW, including the introduction of five e-tron models in five years through their FAW-Volkswagen joint venture.
Audi will also intensify its cooperation with FAW by setting up a joint venture on mobility and digital services next year.
Audi has long been the bestselling premium auto brand in China. It sold 440,233 cars in the Chinese mainland and in Hong Kong in the first nine months of this year, representing 6.2 percent growth year-on-year.
In comparison, BMW's sales rose 10.6 percent to 379,000 units, and Mercedes-Benz sold 344,791 units, a 29.5 percent surge year-on-year.