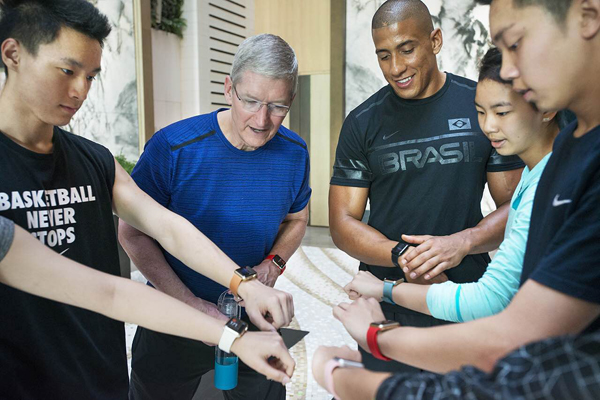 Apple CEO Tim Cook looks at Apple watches being worn by Chinese fitness students in Beijing, on August 16, 2016. [Photo provided to chinadaily.com.cn]
Software giant Apple invited developers from domestic internet companies to meet its chief executive officer Tim Cook at a HomeKit-powered prototype room in Beijing on Tuesday, during the second day of Cook's ninth visit to China.
During their meeting, domestic developers demonstrated how their apps worked with Apple's iOS 10 software, according to a literal live broadcast by live.sina.com.cn.
In iOS 10, Siri is being opened up to developers. Zou Tao, co-founder of Run Again, an app featuring sports and social networking, used Apple's digital assistant Siri to introduce his app.
In addition, he opened the app Run Again by giving Siri a voice command.
Luo Wen, vice president of products at Didi Chuxing, China's leading ride-hailing service provider, demonstrated how its app combines with Siri, which has the function of "talking" to the third-party apps in iOS 10.
Being asked by Luo to call a taxi to the airport, Siri smartly understood this order and asked Luo about which airport he would like to go to, before a conformation card popped up.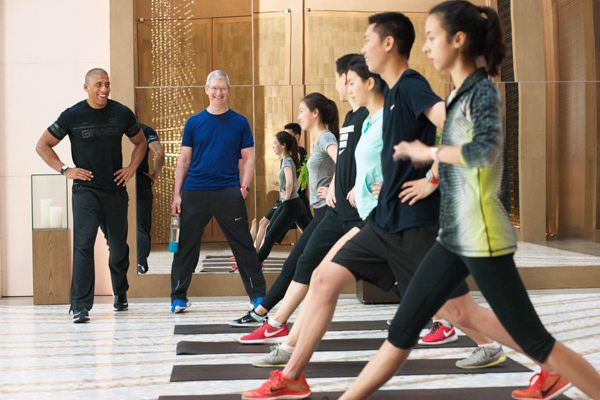 Apple CEO Tim Cook smiles at Chinese fitness students in Beijing, on August 16, 2016. [Photo provided to chinadaily.com.cn]
Cook told developers that iOS 10, the largest update of the iOS software that attracted five million customer registrations over a short time, has many new functions, including many that were developed for the Chinese market.
He said Siri was studying Chinese culture, including Chinese poems, which meant if he only remembers a few words of a poem, Siri can help identify the poem's author and the full text.
As Siri has been opened up to developers, it can assist users in using the car-calling voice services of third-party apps, Cook said.
He also emphasized the update of iMessage, which features a new keyboard function supporting a mixed input of Chinese and English that does not need to switch.
Insisting that iOS's user experience was much better than Android's, Cook said Apple was unique in terms of consumer satisfaction, whether it's just in China or across the world.
He spoke about the low penetration rate of smartphones in India and the room for development in many other countries, stating that the smartphone market had not yet been saturated.
When addressing Apple's sales slumps in China, Cook tried to make clear that while Apple's sales in channel decreased, its sales to consumers actually rose. And he says the depreciation of the yuan is also affecting its amount of revenue priced in US dollars.
Cook explained that the smartphone's cycle had a peak and low tide, saying Apple was focusing on the long term and did not care about some changes within a short period of time.
He said the company was investing in years of technology rather than the current market or a present quarter.
In addition, Cook expressed that he wanted to meet more Chinese developers and entrepreneurs, who, in his view, were like sowing a seed for the future - significant for China's development.