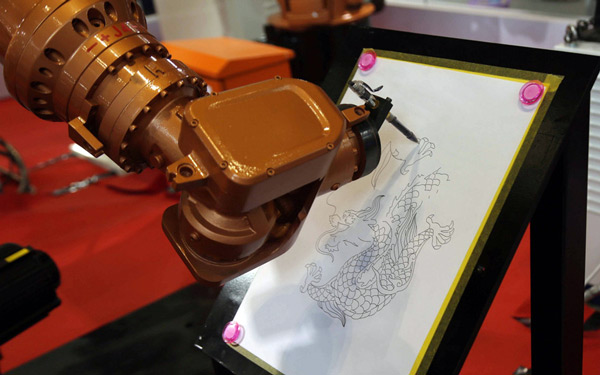 A robot draws a dragon at the 5th China International Robot Show (CIROS2016) on July 6, 2016, Shanghai. [Photo/IC]
Concerns about China's overinvestment in the robotics industry are gradually being raised, despite the country being named the world's largest industrial robotics consumer for three years.
Speaking at the 2016 China International Summit of the Robotics Industry on Wednesday, Wang Weiming, deputy director of the Equipment Department at the Ministry of Industry and Information Technology (MIIT), noted a trend in overinvestment, saying "the existing boom of domestic robotics manufacturers is not only driven by the market demands and financial institutions' investments, but also stimulated by blind expansions".
Wang said robot manufacturers needed to develop market niches with innovative products, rather than simply duplicating low-end equipments.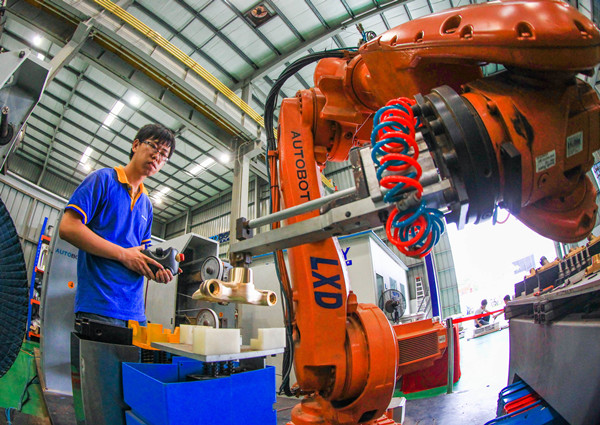 A worker assembles a robotic arm at a factory in Foshan, Guangdong province. [Provided to China Daily]
MIIT statistics show that China has more than 800 robotic companies. A considerable portion of them are original equipment manufacturers (OEMs) or assemblers for producing robots that can perform caring or loading functions.
China's industrial robot market has been growing sharply since it became the world's largest, in terms of robot sales, in 2013. Sales of industrial robots reached a record high 66,000 units in 2015, up 16 per cent year-on-year.
Data from the International Federation of Robotics (IFR) show the supply of industrial robots in China increased 40 per cent a year, on average, between 2010 and 2014.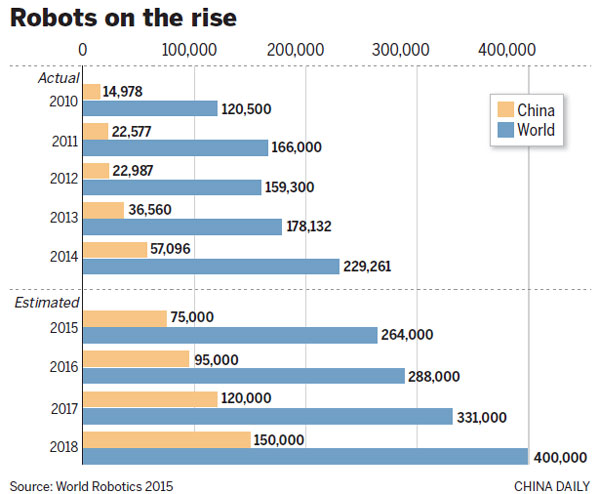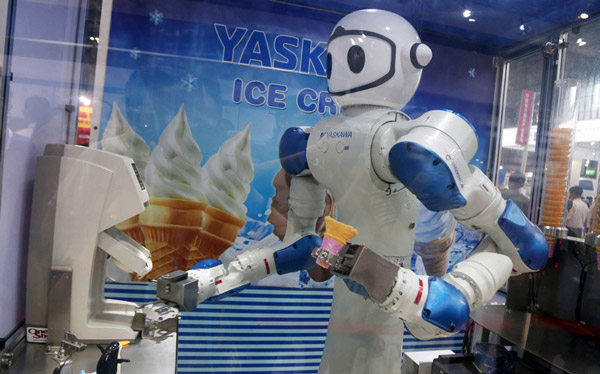 A robot is making ice cream at the 5th China International Robot Show (CIROS2016) on July 6, 2016, Shanghai. [Photo/IC]
"Local governments should avoid falling over themselves to invest the sector, regardless of calculating the level of their economic development and the basis of building robotic industry," said Qu Daokui, president of Siasun Robot & Automation.
Chen Ji, director of the Institute of Industrial Economics in the Capital University of Economics and Business, also expressed his concern about the potential investment bubble in the industry.
"As high-end manufacturing is potentially able to boost local GDP growth and attract talents, some local governments tend to give big policy support in a bid to attract enterprises in robotic manufacturing. However, it turned out that the supply exceeded the market demand and caused a glut of similar projects," Chen said.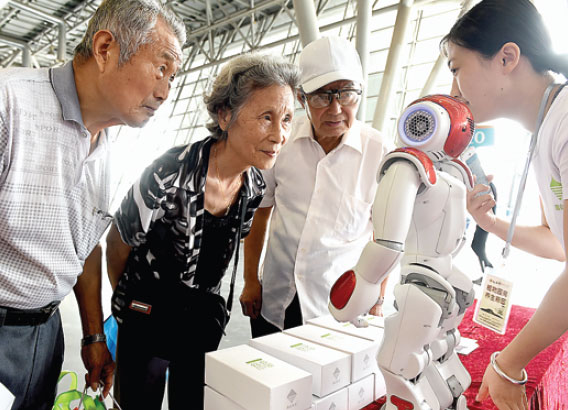 Visitors examine a robot designed to serve the elderly at an expo in Anhui province, on Aug 14, 2015. [Photo/Xinhua]
However, with an ageing population and increasing labor shortages, China plans to sell service robots worth more than $4.5 billion by 2020.
Wang Xiangyi, vice president of Turing Robot, said the market potential had been gradually realized. Wang claims that companion and elderly-care robots offered a good solution to significant labor shortages in the nation's developing social security and service sector.