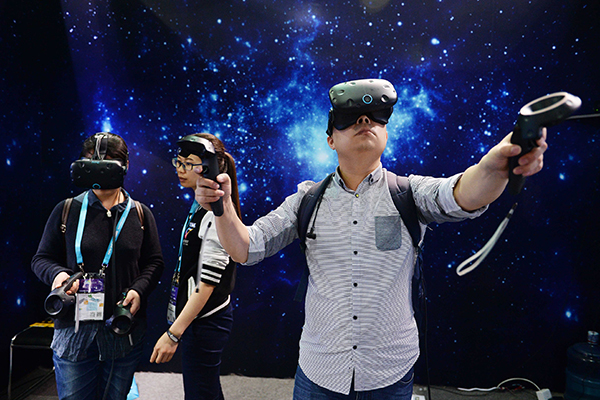 A visitor plays VR games at the three-day Consumer Electronics Show Asia 2016 in Shanghai. The event showcases the latest VR products including headsets, glasses and accompanying content displayers. [Photo provided to China Daily]
Perfect World, a leading Chinese online game developer and publisher, is eyeing virtual reality games for future growth, as the company's first VR product garners rave reviews among hard-core gamers
"With the advancement of technology, I believe VR games will start evolve from a niche to a mass market in two to three years," said Robert Xiao, CEO of the online gaming juggernaut.
In March, the company's US affiliate Unknown Worlds unveiled its first VR game: "Subnautica". The game enables consumers to be immersed in a virtual sea world and play with different kinds of underwater creatures.
Currently, the PC version of Subnautica can generate about $1 million in monthly sales, the company said.
"We are working on four to five new VR games, in the hope of figuring out what is the most appropriate way to capitalize on the cutting-edge technology," Xiao said.
Though less well-known than China's largest gaming company Tencent Holdings Ltd, Perfect World performs quite well in overseas markets thanks to popular self-developed online games and by acquiring a slate of innovative foreign game developers.
"The United States is our second largest market. Our business here have grown 15-fold from 2009 to 2015," Xiao said.
In 2014, the overseas sales of Perfect World's independently-developed online games ranked first in China, with a market share of more than 21 percent, according to a report by research firm CNG.
Now, facing the huge opportunities brought by VR, the Beijing-based company is also seeking to acquire British game developers and Internet companies.
"We are looking for potential candidates, either established firms or startups," Xiao said.
According to him, the company has shifted from relying on foreign agent companies for overseas marketing and sales channels to now integrating global resources to develop games.
Now it has more than eight branches all over the world, having bought majority stakes in three US game developers.
Still, Perfect World is facing mounting competition from domestic players Tencent and NetEase, which are stepping up efforts to go global.
In June, a Tencent-led consortium said it would pay $8.6 billion to acquire up to 84 percent of Supercell, a Finland gaming developer.
Xue Yongfeng, an analyst at Beijing-based internet consultancy Analysys International, says while it will still take several years for VR gaming to prosper, Chinese companies need to boost research and development as soon as possible to pounce on the trend.