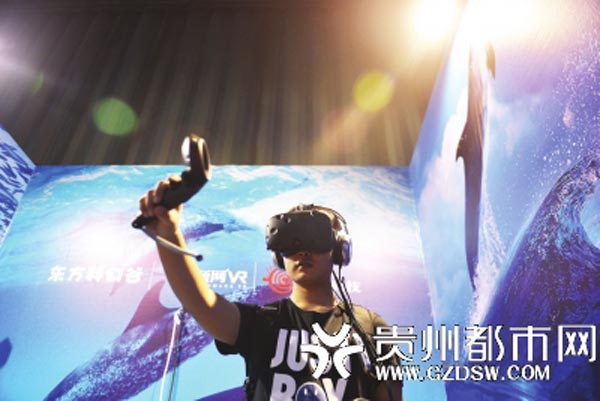 A staff member of the East Valley of Science and Fantas demonstrates VR gadgets at the Big Data Expo 2016 in Guiyang, capital of Southwest Chian's Guizhou province, May 25, 2016. [Yang Xingbo/For China Daily]
Plans have been unveiled for a groundbreaking virtual-reality theme park where visitors can find themselves immersed in a world living with aliens, riding UFOs and fighting dragons.
The theme park site in Guiyang, the capital city of Guizhou province, is part of a larger 1.3-square-kilometer, 10-billion-yuan ($1.52 billion) project being masterminded by the Shenzhen-listed Oriental Times Media Corp's animation unit.
Construction of the East Valley of Science and Fantasy has already started and it is scheduled to open in October.
Most of that total area, however, will be devoted to VR moviemaking, with a cutting-edge media research and development center at its core, said the company.
VR helmets and other gadgets will be handed out to visitors to the theme park so they can "interact with the environment", said Shi Xiangdong, chairman of Shuimu Animation Co Ltd, Oriental Times' animation unit that will oversee the project.
"The VR park will give players a more-realistic feeling than video games.
"Moreover, we will feature China's first VR roller coaster and 13 pavilions showcasing different UFOs, which can help children explore outer space in a digitally immersive way," said Shi.
The ambitious new project comes as some of China's biggest companies are scrambling to tap into the burgeoning VR sector, which is being widely tipped to take over from the smartphone industry, as the country's next commercial gold mine.
Top gaming company Shanda Group, for instance, also plans to create a VR theme park in partnership with The Void LLC, a United States-based entertainment company.
Internet giants including Alibaba Group Holding Ltd, Baidu Inc and LeEco Holdings Co Ltd have rolled out their own VR projects, focusing on either hardware making or video content production.
She Shuanglin, an analyst with Beijing-based internet consultancy Analysys International, has been taken by surprise by the speed of VR technological advancements.
"Applications are coming sooner than we had expected," he said.
Research firm Digi-Capital estimates the global VR industry will be generating $30 billion in revenue by 2020, split 50/50 between VR games, and hardware, films and theme parks.
Contact the writers at masi@chinadaily.com.cn and yangjun@chinadaily.com.cn