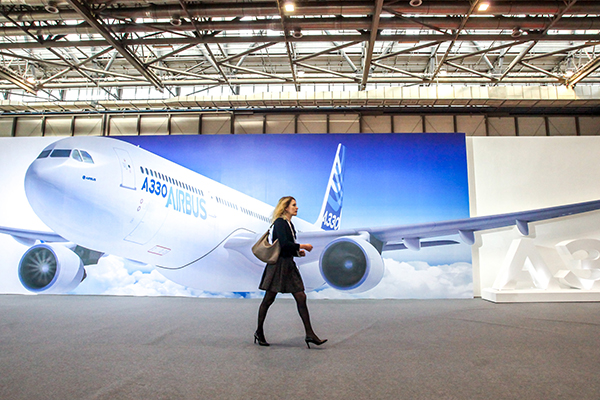 A visitor walks past a poster of an A 330 at the assembly area of Airbus Group SE in the Tianjin Binhai New Area. [Photo / Xinhua]
Officials in Tianjin said they expect high-end, modern manufacturing to account for 70 percent of output at the city's flagship industrial region, the Tianjin Binhai New Area, by 2020.
Tianjin is considered China's oldest industrial hub.
In 2005, it became a pilot city for the country's transition, from being a low-value, to a high-level manufacturing economy.
Since then, Zong Guoying, Party chief of the New Area's administrative committee, said companies right across the site have been embracing and investing in the most up-to-date industrial methods.
"Advanced modern manufacturing is our top priority, and a decade after being created, the area's pillar manufacturing segments are now thriving," said Zong.
He highlighted eight sectors as enjoying the strongest progress: aviation and aerospace, automobiles, equipment manufacturing, petrochemicals, electronics and information, new materials, alternative energy and biopharmaceutical.
The result of this modernization drive is that the New Area enjoyed a gross domestic product worth 1 trillion yuan ($152 billion) in 2015, accounting for more than 60 percent of Tianjin's total.
Its industrial value was worth 927 billion yuan in 2015 - 5.7 times its size in 2005, when the State Council designated it another of China's pilot zones for deepening economic reform, after Shenzhen and Shanghai's Pudong.
One of the most successful of the companies now operating within the area is Taiyuan Heavy Industry Co Ltd.
Lian Guangshe, its general manager, said it chose the Binhai New Area as its new production hub, because of its geographical advantages and the favorable investment policies on offer.
"Tianjin is a key coastal city and a major economic hub for North China," said Lian.
"Since setting up our new facility here in 2012, the production and shipping of our marine engineering machinery products have really benefited a lot."
The company now runs four, 50,000-ton docking berths within the Tianjin Port - the largest harbor in North China - which are just 500 meters away from its manufacturing facility.
Taizhong Binhai, a subsidiary of Taiyuan Heavy Industry, has a wide product portfolio, including marine drilling platforms, forging and pressing equipment, and harbor machinery products, and exports to South America, South Africa, India and Australia.
"This business model of 'factory in the back and port in the front' has proved very convenient, allowing us to efficiently ship our products worldwide," said Lian.
Zhang Yong, the New Area's director, said the steady upgrading of advanced manufacturing activities right across the zone has also created a solid and sustainable industrial foundation for many other companies.
"The enterprises here generated 1.55 trillion yuan of total output in 2015," said Zhang.
"These included high-end manufacturing bases for global companies including Airbus Group SE for its A 320 aircraft assembly, and Volkswagen AG for its transmission production."
Another company using the site to spearhead an expansion overseas is Tianjin Zhongji Equipment Manufacture Co Ltd, whose products include marine engineering equipment, pressure vessels, construction and metallurgical engineering products.
The company recently sold a 3,000-horse-power drilling machine to Mexico, to be used on an offshore oil and gas project, which Tianjin Zhongji claims is the largest of its type built in China.