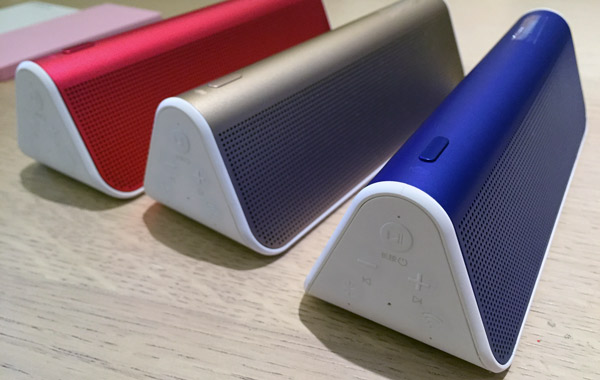 A group of Mi Gu (young generation edition), a portable voice-controlled loudspeaker made by Beijing Linglong Technology Ltd, are displayed on Dec 25, 2015 during the product's launch ceremony held at Beijing's JD Milk Tea cafe.[Liu Zheng/chinadaily.com.cn]
Mi Gu (young generation editon) is a portable voice-controlled loudspeaker that was jointly launched in Beijing on Dec 25 by smart hardware incubator JD Smart and voice technology company iFLYTEK.
Priced at around 199 yuan ($30), the upgraded Wi-Fi/Bluetooth compatible speaker gives you up to the minute news and weather. It lets you access around ten million songs, and there are four million hours of audio books and 1,000 radio stations from third-party source that are available on the device, which are powered by the cloud content of China Mobile.
The new speaker also uses JD's open-source mobile application Jingdong Weilian, which allows users to control all connected smart devices from manufacturers of the company's ecosystem.
It manages your schedule with alarms, calendars and other planning tools, all via voice commands.
"The battery life of the device can reach to 12 hours." said Liu Conggang, hardware product manager of the Beijing Linglong Technology Ltd, the manufacturer of the speaker co-funded by JD.com and iFLYTEK.
In March, JD.com, one of China's e-commerce behemoths, signed strategic agreements with iFLYTEK, China's equivalent of the voice technology company Nuance, who provides voice recognition solutions for Apple's Siri, to expend their business into smart home appliances area.
According to Wei Qiang, director of the hardware department of Beijing Linglong Technology Ltd, in this August, the orders of the first online pre-order week reached to 170 thousand units. "As of now, the speakers' sales volume ranked the top on JD's WiFi smart loudspeaker selling list," said Wei.
JD Smart, a smart hardware eco-system provider, was established by JD.com. It has elaborated on its business strategy in establishing a closed-loop industrial chain for smart hardware start-ups, investors and early adopters.
Wang Zhenhui, president of JD Smart, told chinadaily.com.cn the company's plan is to connect humans, smart devices and services. "Thanks to the business to consumers (B2C) platform JD.com, JD Smart will provide an incubator-like project, JD Plus and smartphone application named Weilian, to build the interaction between entrepreneurs and product users, and bring the smart living experience to customers," he said.
According to a spokesman of JD Smart, the company plans to promote its eco-system and incubator projects to overseas entrepreneurs and startups by setting up a booth at CES 2016 in Las Vegas on Jan 6 to Jan 9.
In May, the first generation of the speaker debuted at the Shanghai CES Asia 2015.