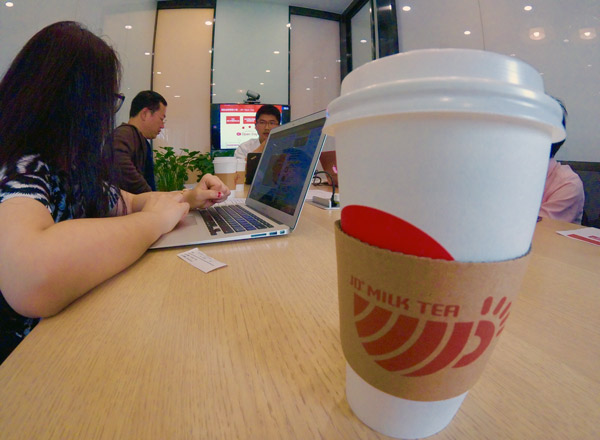 Photo taken on October 14, 2015 shows a press briefing held at JD's incubator -- the Smart Milk Tea Café. [Liu Zheng/chinadaily.com.cn]
With surging market potential and purchasing power, non-price-sensitive Chinese early adopters have attracted more attention from Silicon Valley.
"US tech startups require two aspects of resources to step into the Chinese market: Reaching Original Equipment Manufacturer (OEM) and Original Design Manufacturer (ODM) to start mass production and promote their products to venture capitals and target customers through a group-funding website or e-commence platform," said Ken Lin, director of the International Business Development (IBD) Department of JD Smart Group, during a press briefing held on Wednesday at JD's incubator -- the Smart Milk Tea Café.
JD Smart, a smart hardware eco-system provider backed by Nasdaq-listed Chinese e-commerce giant JD.com, is established as a platform to meet the demand of the entrepreneurs.
As a platinum partner, Lin's team joined IBM SmartCamp 2015 in September at the home of American start-ups, Silicon Valley.
The event was organized by the US behemoth to mentor, build networks and set up competitions between rising startups from around the globe.
"Through our flagship programs -- JD+, including "Open Day" and "PowerUP", JD Smart IBD provides support to accelerate market entry of overseas startups in China, and help hardware innovators at different development stages," Lin told chinadaily.com.cn.
With domestic investments, supply chain resources, and 100 million active buyers on JD.com, the company aims at linking overseas technology entrepreneurs to build brand awareness and distribution channels for their products.
According to Lin, for the start-ups that remain at the early stage, Open Day will arrange them with top level venture capitals, including IDG, Sequoia Capital and DCM.
"Open Day is also a platform for the demonstration of new technologies that reserve the future development trend of the industry," Lin said. "It will display the novel technologies just like the Google X lab does."
"The next Open Day will be held in Silicon Valley in a certain time in either November or December, and the next after will be held in Israel and then come back to Beijing and Shezhen," Lin told chinadaily.com.cn.
PowerUP is focusing more on overseas start-ups that have prepared or even started to ship their products. JD Smart will provide four sub-platforms, including an online community built for product trail subscribers, an online launch platform that debuts new products, a crowd-funding platform and a business to consumer online mall -- JD.com.
"The four sub-platforms will be integrated as an aggregation site that showcases the latest hardware designed in Silicon Valley," Lin said.
According to Lin, Hax Accelerator, one of the largest hardware incubators in North America, will work with JD Smart to introduce their qualified products on the PowerUP platform.
Meanwhile, the company and 500Startups, a Silicon Valley venture capital seed fund and startup accelerator founded by former PayPal and Google alumni, have all presented cooperative intention with each other.
The company has also been in talks with incubators at Stanford University and a Paris-based incubator named Hardware Club.
On Aug 20, JD Smart held an open house, the first event of its Open Day program in the JD+ project, for 20 overseas technology start-ups from seven countries to demonstrate their crowd-funded products in Beijing.
"We've been open on business talks with some entrepreneurs after the first Open Day, and one of the selected start-ups, a smartphone case maker, will be chosen to join one of our incubators," said Lin. "Zano, a British drone maker, will come to our crowd-funding platform very soon."