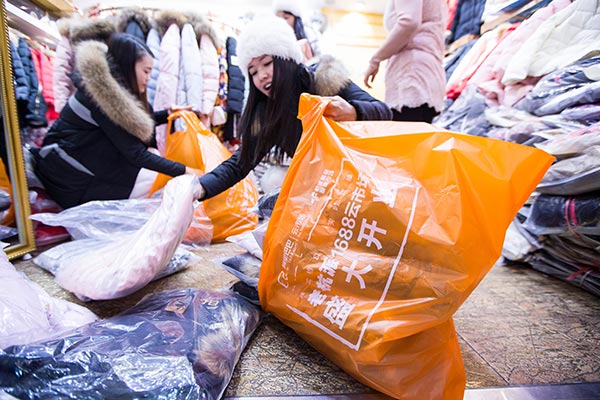 Taobao shop owners are busy packing clothes for their online customers from across the world.[Provided to China Daily]
Cash-strapped Star Wars fans can pick up Darth Vader figurines and light sabers for as little as $4.59. Tom Brady jerseys go for about a 10th of those on the National Football League's store. A pair of red Beats Solo headphones can be had for just $107-about half its official price.
It's bargains galore at Alibaba Group Holding Ltd's Taobao: the EBay-like bazaar where buyers meet up with sellers. Billionaire Chairman Jack Ma is struggling to shake the company's reputation as a haven for cheap knock-offs and unauthorized merchandise, 21 months after calling counterfeits cancerous. He heads into 2016 after a bruising year that saw more than $50 billion wiped off its market value amid lawsuits and criticism from Chinese and US regulators.
Cleaning up its image next year is crucial to Alibaba's goal of winning the trust of merchants and shoppers overseas, from where Jack Ma wants to get more than half the company's revenue within a decade. A cooling Chinese economy makes that effort even more pressing. At home, JD.com Inc is winning customers partly because it holds the inventory itself and sells directly to consumers, similar to Amazon, a business model easier to police and regulate, said Michelle Ma, an analyst with Bloomberg Intelligence.
"By now, management should have eliminated this problem," said Cyrus Mewawalla, managing director of London-based CM Research. "The fact that they haven't is a worrying sign for investors."
Alibaba's struggle with fakes and questionable products is part of a larger issue in China, where piracy is rampant and knock-offs of everything from DVDs to appliances flourish. Yet over time, the country's growing middle class will demand higher-quality goods, placing the onus on Alibaba to clean up its act.
Alibaba makes money from Taobao through advertising revenue, with third-party merchants holding the products for sale, from toys and food to medical equipment. Since the goods aren't in Alibaba's possession, it's harder to verify if they are legitimate.
Still, Alibaba says it's trying to crack down.
Alibaba "is committed to the protection of intellectual property rights and the fight against counterfeiting," the company said in an e-mailed statement Friday. "Counterfeiting is an issue all global e-commerce companies face, and we are doing all we can to address and fight it."
The company has a task-force of more than 2,000 monitoring for fraud and removed 90 million product listings before its 2014 initial public offering. Brand owners can use an online complaint platform to report infringements while those accused of selling frauds have three days to refute allegations with evidence or face delisting, according to Alibaba's website.
Alibaba has also worked with brands including Nike and Adidas to remove fake athletic shoes, watches and bags on Taobao and thousands of sellers have been penalized.
That hasn't stopped criticism.