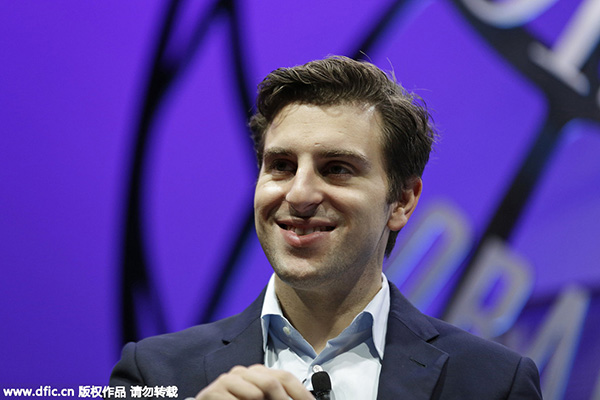 Brian Chesky, CEO and Cofounder of Airbnb. [Photo/IC]
"Anyone can be entrepreneur. Entrepreneurship is not limited to the privileged. My parents are social workers. I never heard of that word [entrepreneur] when I was growing up, no one ever told me growing up I could be an entrepreneur. When I think of that, I keep telling people entrepreneurs could come from anywhere," said Brian Chesky, CEO and Cofounder of Airbnb, during the Second World Internet Conference on Thursday.
The Second World Internet Conference, the most high-profile Internet related event in China, is taking place in the picturesque water town of Wuzhen, Zhejiang province, Dec 16 to 18.
The conference, with a goal of "building a cyberspace community of shared destiny", has gathered together more than 2,000 participants, including state leaders, government officials, business leaders, Internet titans, and experts from more than 120 countries and regions.
The guests at 10 forums will exchange views on a wide range of topics such as Internet culture communication, Internet innovation and development, digital economic cooperation, cyber security, Internet plus, cyberspace governance and the digital Silk Road.
Furthermore, the conference will review the achievements of China's Internet development over the last two decades and look into the future by displaying a treasure house of the latest technical inventions.