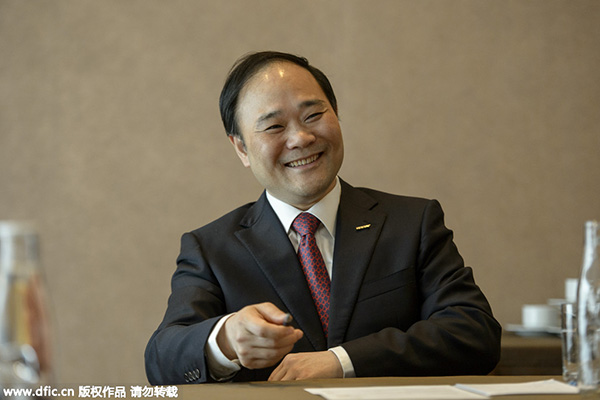 Li Shufu, chairman of Zhejiang Geely Holding Group. [Photo/IC]
Li Shufu, chairman of Zhejiang Geely Holding Group, urged the Chinese government to set up a technical route and time node for driverless cars and intelligent interconnection during the Internet Plus sub forum of the Second World Internet Conference on Thursday.
China should start preparation for establishing standards and legislation, Li added.
"The automotive industry is entering into a new phase of joining forces with the Internet. In the future, hands and feet will not be necessary to drive, which will bring fundamental changes in automobiles", Li said
"Geely Group aims to become the top 10 automakers in the world. Human-computer interaction and autopilot are basic factors for intelligent Internet autos. The Volvo brand under Geely Group is in cooperation with Chinese Internet companies, including Baidu and Gaode."
China has witnessed a rapid development of its Internet industry over the past two decades. The Internet has profoundly affected almost every facet of Chinese people's lives including communication, transportation, and entertainment.
As of July 2015, the number of Internet users had reached 668 million, the most in the world, according to official figures. All cities and towns, and 93.5 percent of administrative villages in China now have access to the Internet.
The thriving Internet industry and the gigantic market potential have also bred countless Internet companies, and some of them, such as Baidu, Tencent and Alibaba, have become international goliaths.
Chinese authorities have attached more importance to the Internet, pledging to transform China from a big Internet nation to a great one. The Internet, with better management, will be more open to the world.