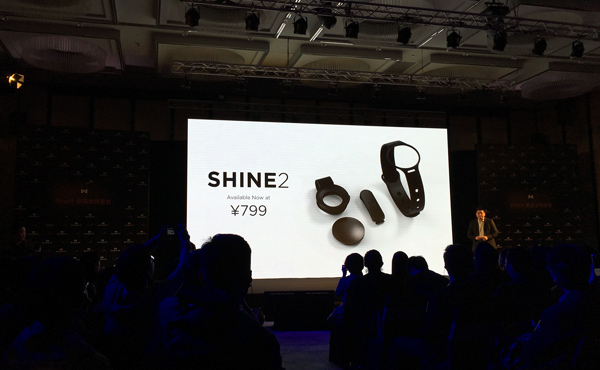 Sonny Vu, founder and CEO of Misfit Wearables, delivers keynote speech on October 21, 2015 during the global launch event of Shine 2 held in Beijing. [Liu Zheng/chinadaily.com.cn]
Fossil Group Inc, the US-based watch maker, announced on Friday that it has entered into a definitive agreement to acquire Misfit Inc, the manufacturer of wearable activity tracker, for $260 million.
"By adding the technologies and new categories to the brand, Fossil expects big growth in Chinese market," a spokesperson told chinadaily.com.cn.
According to the spokesman, a watch-like Android device which will be equipped with Misfit's technologies acquired through the acquisition will be announced in the mid of next year in China.
The acquisition will enable Fossil Group to expand its addressable market, offering consumers both traditional timepieces and fashionable connected accessories.
Misfit launched Shine 2, the company's next generation activity and sleep monitoring bracelet in Beijing on October 21.
In December, 2014, Misfit raised $40 million in financing from Chinese smartphone maker Xiaomi Corp, e-commerce giant JD.com Inc, and venture-capital firms GGV Capital and Shunwei. The investment comes just a few months before Apple Watch is expected to hit the Chinese market.
According to the spokesman, after the acquisition, Fossil will continue to work with JD.com to expand its distributions in China.
Sonny Vu, founder and CEO of Misfit Wearables, will serve as president and chief technology officer of connected devices for Fossil Group Inc, and will be a member of the company's executive leadership team.
"We have a significant opportunity to add technology and connectivity across our platform of watches and accessories," said Kosta Kartsotis, chief executive officer of Fossil Group. "With the acquisition of Misfit, Fossil Group will be uniquely positioned to lead the convergence of style and technology and to become the fashion gateway to the high-growth wearable technology and connected device markets."
The acquisition will enable Fossil Group to own a technology platform that has already solved many of the hardest problems in wearables, including battery life.
"We are thrilled to join forces with Fossil Group to usher in the next era of wearables where elegance, beauty and long-lasting wearability are paramount," said Sonny Vu, founder and chief executive officer of Misfit.
Fossil Group Inc is a global design, marketing and distribution company that specializes in consumer lifestyle and fashion accessories.
Misfit was founded in 2011 by Sonny Vu with John Sculley, the former CEO of Apple and Pepsi, and Sridhar Iyengar, co-founder and former CTO of AgaMatrix.