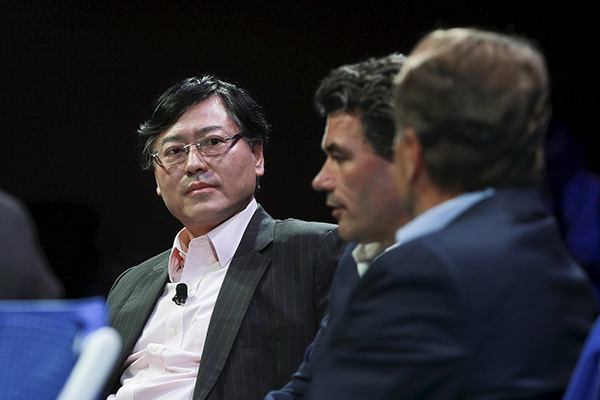 Yang Yuanqing, chairman and CEO of Lenovo Group Ltd, participates in a panel discussion at the 2015 Fortune Global Forum in San Francisco on Nov 2. Lenovo shares climbed 5.77 percent in Hong Kong to close at HK$7.7 on Nov 12, 2015. [Photo/Agencies]
Tech firm hopes to save $650m in costs in second half of the fiscal year, says CEO
Lenovo Group Ltd, the world's biggest personal computer maker, reported a net loss of $714 million on Thursday for the fiscal second quarter that ended in September, due to higher restructuring costs.
Though the loss was the first for the company in the past six years, it was still narrower than the $803 million estimated by analysts.
Lenovo said revenue for the reporting period was 12.2 billion yuan ($1.92 billion), up 16 percent year-on-year. It attributed the revenue surge to strong sales growth and cost-cutting in its smartphone business.
Lenovo said its net losses are primarily due to the $923 million one-time costs, comprising $599 million restructuring costs and $324 million losses from cleaning up unsold smartphone inventories.
Without the one-time costs, the company would have made a profit of $166 million, it said.
Yang Yuanqing, chairman and CEO of Lenovo, said: "Though we spent about $900 million on job cuts and restructuring, it will save us costs of at least $650 million in the second half of the year. This will give shareholders and investors better returns. Transformation and integration cannot be accomplished in one stroke and it is important to be patient," he said.
Lenovo maintained its top ranking in the global PC market and its PC revenues reached $15.4 billion during the period, despite a 9 percent slide from previous year. Moreover, the company's mobile business achieved revenues of $4.8 billion, up 65 percent year-on-year.
Lenovo shares climbed 5.77 percent in Hong Kong to close at HK$7.7 ($0.99) per share.
In 2014, Lenovo bought IBM Corp's x86 server unit and Google Inc's Motorola Mobility unit. It incurred expenses of more than $5 billion on the two acquisitions.
Lenovo said that it will cut about 3,200 employees, which accounts for 5 percent of its global workforce, while releasing its first quarter earnings report in August, and also announced a business restructuring plan. The Motorola unit will henceforth be responsible for design, development and manufacture of smartphones.
Though the industry has already factored in the company's restructuring plan, there are still concerns about the performance of the company's mobile business.
Yan Zhanmeng, a senior analyst with International Data Corp China, told China Daily: "Lenovo is in the midst of a major restructuring exercise. It is reducing the output of low-end mobile phones and shifting focus to high-end models. The company is also optimizing its staff structure, or in other words going in for a strategic overhaul."
In June, Lenovo entrusted Chen Xudong, a senior vice-president overseeing its China business, to find new business models that can compete with mobile phone startups.
Yan said it is understandable that Lenovo has reported a net loss. "The deficit may continue for some time as China's PC and smartphone market has reached saturation."
He, however, remained bullish on Lenovo's future growth potential, and estimates that the company's performance will rebound in the year after next.
Zhu Dalin, an analyst at Beijing-based Internet consultancy Analysys International, said: "It is difficult for Lenovo to make important breakthrough in the smartphone sector, and it faces strong headwinds for boosting revenue in the highly competitive smartphone market."
According to consulting company Strategy Analytics, Lenovo accounted for 5.3 percent on global smartphone market in the second quarter, higher than 4.8 percent in the first quarter, but still lower than 7.6 percent from the same period last year.