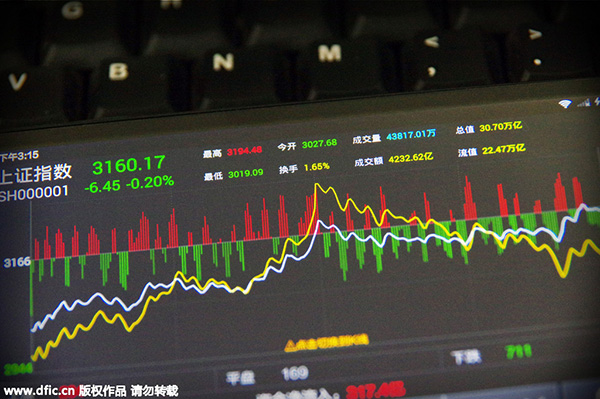 A stock indicator shows the benchmark Shanghai Composite Index on Sept 2, 2015. [Photo/IC]
Global index complier MSCI Inc's decision to include some of the United States-listed Chinese stocks in its emerging market index will boost prospects for Chinese technology companies and pave the way for the eventual inclusion of A shares, analysts said on Thursday.
About 14 Chinese stocks listed in the US, including e-commerce giant Alibaba Group Holding Ltd and search engine major Baidu Inc, will be added to the MSCI Emerging Market Index, according to a report published in the Shanghai Securities News.
MSCI will be the first global index provider to include US-listed Chinese companies in its benchmark indexes.
According to MSCI, the inclusion will likely trigger fund flows worth up to $70 billion into these stocks over the next six months and increase the exposure of Chinese stocks in the MSCI Emerging Market Index to 26 percent.
Baidu is expected to be one of the biggest beneficiaries from the inclusion, gaining about $2.7 billion of the fund inflows, which accounts for about 5.4 percent of its total market value, analysts said.
"It is a positive development. The number of participant companies will go up next year. It also indicates that the inclusion of A shares is round the corner," said Li Da-xiao, chief economist at Shenzhen-based Yingda Securities Co.
MSCI's handling of Chinese stocks has been closely watched over the past few months. In June, the company opted not to include the domestically listed Chinese stocks, known as A shares, to its emerging market index, citing limited market accessibility and capital controls in the Chinese mainland as deterrents.
The dramatic market slide in the summer and the unprecedented government intervention to stem the plunge further dampened hopes for the immediate inclusion of A shares into MSCI's Emerging Market index.
Henry A. Fernandez, chief executive of MSCI, said in September during an interview with Chinese media that the company will resume discussions about the inclusion of A shares at any time as further government reform to liberalize the Chinese capital market is on cards.
China's securities regulator said earlier that it has established a joint working group with MSCI to address the remaining issues of market access and other technical details for the inclusion of the A shares.
Currently, the MSCI Emerging Market Index only has exposure to the mainland companies through H shares, the Hong Kong-listed mainland stocks. Around $1.6 trillion of investments currently tracks this index, according to Reuters.
Norms for new Shanghai board soon
The Shanghai Stock Exchange is modifying the rules and requirements for the strategic emerging industries board, a new trading platform targeting high-growth and innovative companies, sources close to the matter said.