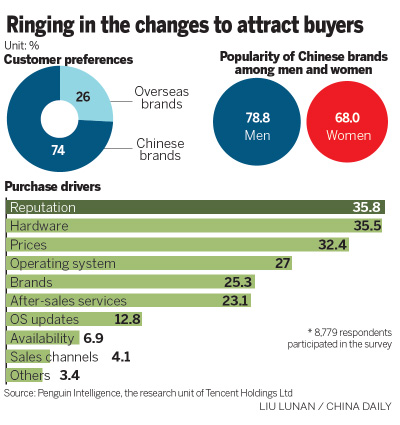 Company showcases more products from Motorola subsidiary
Lenovo Group Ltd, the world's biggest personal computer maker, has tried its best to throw a dampener over Apple Inc's much-anticipated product updates on Thursday, by launching powerful competing devices the day before the United States-based tech giant revealed its latest plans.
Lenovo is hoping to boost its own mobile device sales by using its recently purchased Motorola unit.
So as the clock ticked down to the Apple launch, Lenovo introduced its new smartwatch, the Moto 360, as well as a number of other smartphones and tablets.
Yang Yuanqing, Lenovo's chairman and chief executive officer, insisted the Beijing-based firm has a better product strategy than its rivals, after restructuring the Motorola unit.
"We will bring the full spectrum of Motorola devices to China, covering a wider range of users and online sales," Yang said on Wednesday.
"Lenovo-branded handsets will focus on working with telecom carriers, launching contract phones with them."
He also introduced a Motorola handset to the market at the smartwatch launch.
The Moto 360 becomes the first wearable available in the country running on Google Inc's Android Wear operating system tailored for smartwatches and other wearable gadgets.
The introduction of Android Wear reflects Google's ambition in China, too, as speculation mounts that the world's largest search engine is set to return to the Chinese mainland.
Yang said Lenovo will be Google's "closest ally" if the US firm makes a reappearance.
The new Motorola handset, armed with a 21-megapixel camera, allows users to tailor the color and texture of its back case, and is aimed at luring self-conscious young iPhone users.