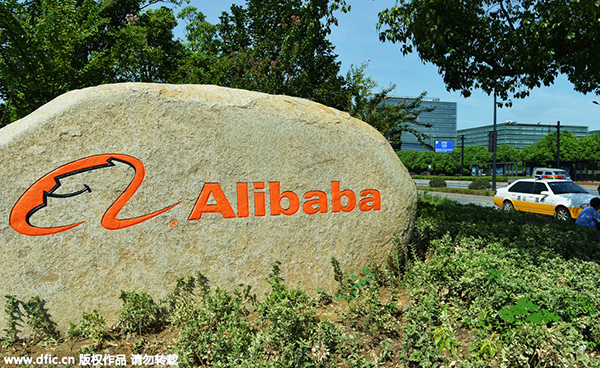 A signboard of Alibaba Group is pictured in Hangzhou city, East China's Zhejiang province, Spet 23, 2015. [Photo/IC]
Alibaba Group Holding Ltd is said to be in talks to invest as much as $80 million in the grocery-ordering smartphone app Boxed Wholesale, according to people with knowledge of the matter, signaling that the Chinese Internet giant wants to expand its reach on Amazon.com Inc's home turf.
Founded in 2013 by CEO Chieh Huang, Boxed is a hybrid of Amazon and Costco Wholesale Corp, offering free delivery within three days on bulk grocery orders of at least $50 made through the company's smartphone app. Shoppers can find a 76.5-ounce box of Kellogg's Raisin Bran for $7.99, 30 rolls of Charmin Ultra Soft toilet paper for $22.39 and 140 kitchen garbage bags for $14.19.
Boxed, based in New York City, has no membership fee, distinguishing it from Amazon's $99 annual Prime membership, which includes delivery discounts and online video and music streaming. Costco charges $55 annually for access to its warehouses stocked with groceries in bulk sizes.
The investment would be Alibaba's second effort to compete with Amazon in the United States e-commerce market without starting its own brand.
Alibaba invested in Hoboken, and New Jersey-based startup Jet.com Inc, which is also challenging Amazon's e-commerce model by offering free delivery of household goods without requiring a membership.
The talks may not lead to a deal with Boxed and Alibaba's investment could be limited to considerably less than $80 million, according to one of the people, who asked not to be named because the discussions are still private. Boxed spokesman David Taft did not respond to requests for comment.
Alibaba Chairman Jack Ma is looking to boost the company's revenue outside China, but a recent push in the US fell flat. In June, Alibaba said it would sell its US website 11 Main, a boutique online marketplace that sought to replicate a Main Street niche-store shopping experience by featuring smaller merchants with unique goods.
Some merchants on the site said shoppers never materialized.
Jet and Boxed would shift Alibaba's US focus to common household goods that save shoppers a trip to the store rather than giving them a sense of discovery.
Big companies and startups alike are taking a fresh stab at delivering groceries ordered online, an industry of $10.9 billion in the US that is expected to grow 9.6 percent annually through 2019, according to a December report by IbisWorld.
Boxed in January announced a $25 million funding round led by GGV Capital.