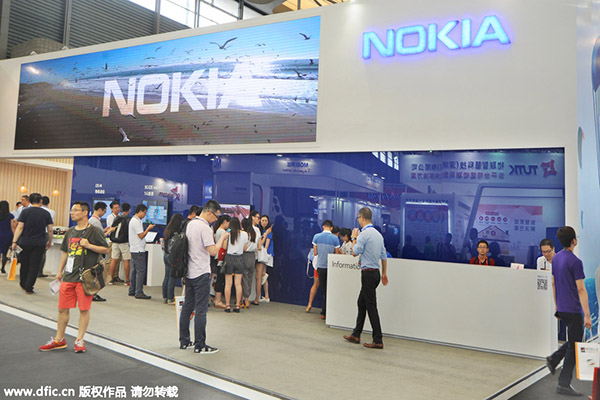 People visit the stand of Nokia during the GSMA Mobile World Congress 2015 in Shanghai, China, July 16, 2015. [Photo/IC]
HELSINKI - Nokia's net sales and operating profit (non-IFRS) grew strongly in the period from January to September of 2015, and the company's performance in Chinese market seemed to have a remarkable contribution to the result.
Nokia's net sales in the first three quarters of 2015 stood at 8.89 billion euros, an increase of 8 percent of that in the same period of 2014, while its operating profit (non-IFRS) was 1.22 billion euros, rising remarkably by 11 percent, announced the company in its interim report on Thursday.
In the period from July to September this year, Nokia's operating profit stood at 475 million euros, increased by 4 percent compared with the same period in 2014, but reduced by 4 percent quarter-on-quarter due to a rapid rise in the second quarter, said the company.
Nokia Networks, a pillar of Nokia after the sale of its handset business to Microsoft, achieved growth in its net sales in the first three quarters by 6 percent year-on-year. Nokia said that strong growth of net sales in China partially offset decreases in North America and Europe.
As a discontinued business, the mapping service HERE gained an increase in its net sales by 8 percent year-on-year in the third quarter of 2015.
In August 2015, Nokia signed an agreement to sell HERE to a consortium of automotive companies at the value of 2.8 billions. The deal is expected to close in the first quarter of 2016.
Earlier in April 2015, Nokia announced to acquire French Alcatel-Lucent in a 15.6 billion euro deal.
Finnish business daily Kauppalehti reported on Thursday that Nokia has processed the Alcatel-Lucent transition faster than planed.
The daily said that Nokia has already received all necessary official approvals for the acquisition of Alcatel-Lucent, so the company is getting closer to the deal related integration planning.
Mikael Rautanen, analyst from a Finnish analysis company, commented to Kauppalehti that Nokia's profitability was excellent even though its sales in the third quarter slightly reduced. Its performances in China were especially good, added Rautanen.
The market reacted positively to Nokia's third quarter achievements. Nokia's share price surged about 10 percent in Helsinki Stock Exchange Market two hours after the company's report was published.