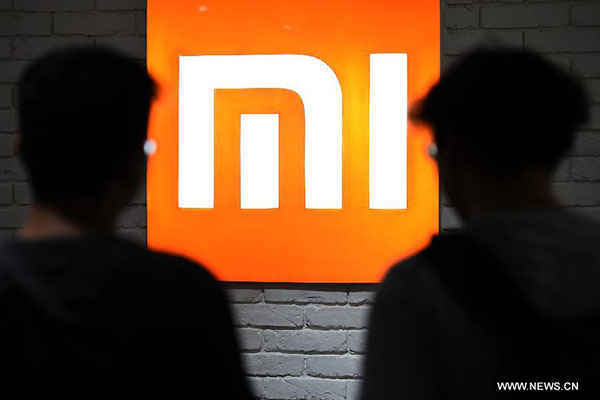 Reporters visit the first Xiaomi store opened in Taipei, China's Taiwan, Aug 6, 2015.[Photo/Xinhua]
Chinese smartphone vendor Xiaomi Corp is under investigation for alleged violation of the country's new advertising law, a financial news outlet reported on Monday.
Industry regulators have initiated an investigation into the Beijing-based handset maker on suspicion of using phrases including "the best" to describe its products online, according to a report by the Securities Daily .
The Haidian branch of the Beijing Administration for Industry and Commerce said in a statement that its behavior could violate the country's new advertising law, which bans enterprises from using superlative adjectives, including "the most advanced", in promotions.
Xiaomi is the first Internet enterprise to be probed after the law became effective on Sept 1.
The revised legislation is intended to protect consumers from advertisements which overplay and exaggerate product features.
The statement said law-enforcement staff had found evidence of suspect behavior on Xiaomi's official website after receiving a tip-off from a whistleblower.
Officials from Xiaomi and Beijing Administration for Industry and Commerce were unavailable for comment.
Zhu Dalin, an analyst at Beijing-based Internet consultancy Analysys International, said it is quite common for hardware manufacturers to resort to superlative adjectives in product promotion.
"The new law will have a certain impact on Internet companies," Zhu said, "but not too much-after all, consumers are so accustomed to clichés such as 'the super phone' and 'the omnipotent TV' that these phrases make no real sense to them now."
This is not the first time Xiaomi has been involved in a deceptive-advertising dispute.
In August, it launched a new smartphone, the Red Mi Note 2, which was promoted on e-commerce sites as equipped with panels from Japanese electronics giant Sharp Corp and the Taiwan manufacturer AU Optronics Corp.
But consumers found that the gadgets' screens were actually produced by Tianma Microelectronics Co Ltd, which is based in Guangdong province.
In response, Xiaomi said the information which had appeared on third-party e-commerce platforms was wrong, due to an employee error, and claimed it never said on its own website or at the launch event that the panels were from Sharp or AU Optronics.
"Such a dispute really hurts Xiaomi's corporate image," Zhu said.
"As an influential enterprise which boasts a sizable Chinese fan base, the company should have informed users of the panel issue beforehand, rather than wait until consumers dug out the truth."
Ma Si contributed to this story.