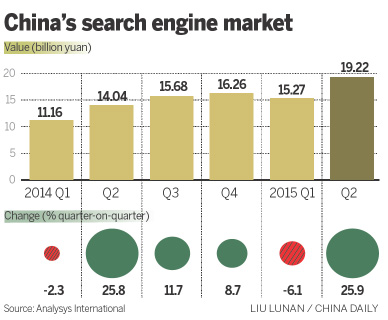 "Baidu is no doubt a gateway in the personal computer-based Internet industry, as everyone needs to use its search engine to get information.
"That thirst for information has now gone mobile, but it is still not as strong as digital demand for social networking and shopping. That's why Baidu must change," she said.
Duer is accessed through the latest version of the Mobile Baidu search app, and will be able to provide services in just three categories initially-dining, movies and pets.
But Li said the service will be expanded to other sectors, including education, healthcare and finance, very soon.
"Apart from the Mobile Baidu search app, other Baidu apps including Baidu Map and Nuomi, the group-buying service, will also be equipped with the virtual assistant," he said.
He did not rule out the possibility of launching a separate Duer app, or even building a real robot to offer people services, in the future.
Yan Honghui, an analyst with Internet consultancy Analysys International, said that as Duer handles more types of request in the future, it is likely to become a crucial part of Baidu's business.
"Not only can it improve user experience, but by making Duer smarter Baidu will be able to connect all its services-related businesses, such as car booking and group buying into one platform, creating a new 'killer app' which will give it added growth momentum in the future," she said.