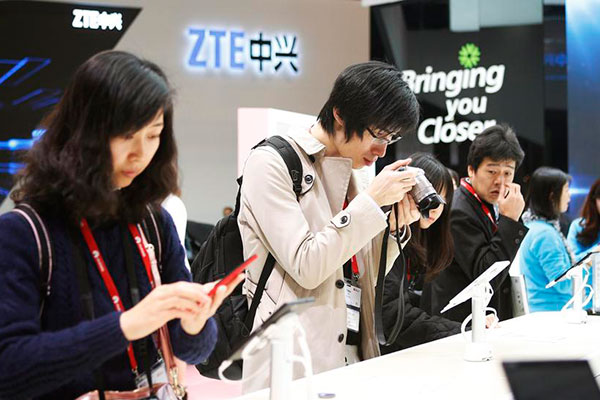 Visitors check out products at the ZTE stand at the Mobile World Congress in Barcelona, February 24, 2014.[Photo/Agencies]
Fourth-generation network products sales are expected to increase ZTE Corp's net profit in the first half by 43 percent, said the company.
It launched the latest flagship smartphone and its first wearable on Tuesday, targeting mid and high-end markets.
Net profit is projected to hit 1.61 billion yuan ($260 million) in the first half. Operating revenue is expected to increase 21.9 percent to 46 billion yuan from a year earlier, according to ZTE.
The Shenzhen-based company in Guangdong introduced its latest flagship handset hours after announcing the projected results, indicating a strong desire to build up the consumer electronics division.
The handset, called Axon phone, comes with a fingerprint scanner, dual-SIM support and 128GB of internal memory.
ZTE is looking to gain a bigger share in overseas smartphone market. The Axon will be sold in China, the United States and other countries. With a 3,888 yuan price tag for the premium device, it is one of the most expensive smartphones made by a local vendor.
Adam Zeng, CEO of mobile devices unit, said: "We are excited to bring our first-ever global flagship to China – a market where our aim is to return to being a top-three smartphone vendor within the next three years."
ZTE also launched the Axon Watch, a wearable, that can be used for both fitness and health monitoring, and supports a range of applications such as phone calls and messaging.