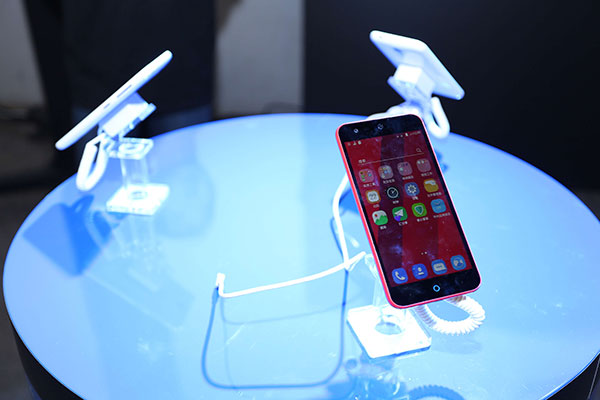 A red-shell "Zui & Xiang" smartphone is on display at its launch event in Beijing, July 2, 2015. [Photo provided to chinadaily.com.cn]
China's leading global telecom equipment and solution provider, ZTE, on Thursday unveiled its latest smartphone in Beijing, with the hope of attracting more younger users.
The 5-inch screen phone, called "Zui & Xiang", was released by the phone maker and China Unicom, the second largest telecommunications operator in China. "Zui & Xiang" means "immerse and enjoy", also can be understood to mean "most want to share", according to the company.
The phone has a 13-megapixel primary camera and a secondary camera that can shoot 5-megapixel images. It takes users just eight seconds to complete the process of taking a picture and sharing it on social media, and that is the obvious character of the new phone, the company said.
Besides the quick picture and sharing functions, it also comes in several colors to choose from, with a fixed price of 899 yuan ($144.92). China Unicom users can get the phone for free with certain two-year contracts with the operator.
Sales are expected to reach more than one million units, said You Keqiang, deputy manager in the department of operators of ZTE China.
He also said that this phone is just the first product of the company's "Zui & Xiang" series, and more smartphones will be released later.
"We focused on the sharing function. The later products can be expected to directly share not only the pictures, but also the music, videos and even the user's messages," said Chen Chen, marketing manager of the Unicom Vsens Communications Co Ltd, a wholly-owned subsidiary of China Unicom.
ZTE is a leading cellphone manufacturer in China. The company started researching and manufacturing cellphones in 1998, and by 2014, it had sold 600 million units around the world.