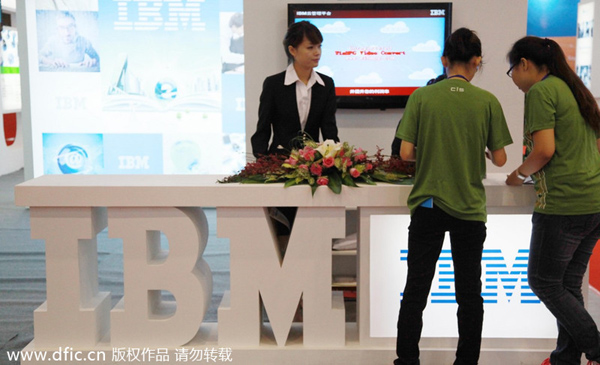 People visit the stand of IBM during an exhibition in Nanjing city, East Chinas Jiangsu province, Sep 6, 2012. [Photo/IC]
WASHINGTON -- China's Vice Premier Liu Yandong said here Tuesday that she hopes the International Business Machines Corporation (IBM) can play a role in expanding cooperation with Chinese entities in fields including education, medical and health services.
Liu made the remarks while meeting with IBM President and CEO Ginni Rometty. Liu spoke highly of IBM's role in world business and high technology, urging IBM to continue contributing to the Sino-American relations and a win-win cooperation with Chinese entities.
Rometty welcomed Liu's visit to the company and said that IBM would like to cooperate with Chinese institutions in education, environmental conservation and governance and other sectors.
"The fact is that in the past we made products for China, now we are making products with China," said Rometty, praising China's initiative on innovation and saying IBM is a supporter on that.
Liu and Rometty also witnessed signing of an educational exchange program in the day. Under the program, China Scholarship Council, a non-profit institution affiliated to the Chinese Ministry of Education, and IBM agreed to launch a five-year strategic collaboration program. With the program, China Scholarship Council will provide 100 scholarships to American students studying in China in the areas of science, technology and engineering, while China will send 100 students to study at IBM partner universities in the US.
The program is one of the activities arranged around the sixth Sino-U.S. high-level Consultations on the People-to-People Exchange (CPE), which will be chaired by Liu and US Secretary of State John Kerry Wednesday.