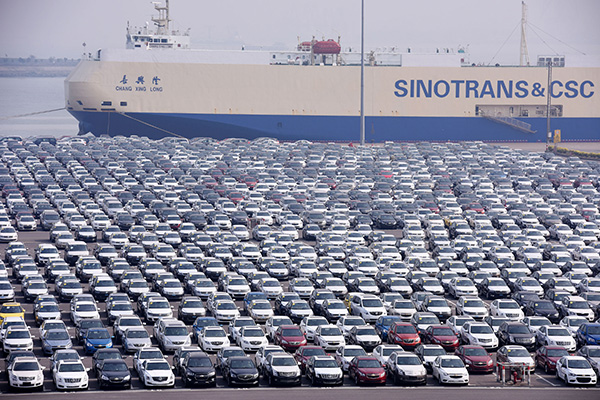 Cars at the Nansha port in the new China (Nansha) Pilot Free Trade Zone in Guangzhou, Guangdong province. The port will mainly handle cargo from the western part of the prosperous Pearl River Delta. [Photo/Xinhua]
Entry point the focus of program to create international shipping center within 3 years
Construction of port facilities and international cooperation will be given priority in Guangzhou, the capital of Guangdong province, which aims to build an international shipping center within three years, local authorities said on Tuesday.
Construction of the third phase of the Nansha port, a major component of the Guangzhou Port, will be completed this year.
The Nansha port, located in the new China (Nansha) Pilot Free Trade Zone, already has 10 container berths. The number of berths will increase to 16 after completion of the third phase.
Construction of the fourth phase will begin soon, making the Nansha port into one of the top five ports in the world in terms of handling capacity, according to the local port authority.
"Nansha, located in the southernmost part of the Pearl River (near the) Hong Kong and Macao special administrative regions, has advantages in terms of the development of shipping services," said Song Xiaoming, vice-general manager of Guangzhou Port Co Ltd.
According to Song, the Nansha port will mainly help handle cargo from the western part of the prosperous Pearl River Delta.
"The shipping services will also target trade between Southwest China and Southeast Asia," Song added.
The three-year plan is subject to approval by the local government. Under the plan, construction of bulk cargo terminals, expansion of deep-water channels and a harbor railway will soon begin.
"Enhanced development of shipping services in Nansha will facilitate development of the FTZ and China's Belt and Road Initiative," said Song.
The Guangzhou Port is one of 15 such facilities along China's coast to further open up services. These will support the Belt and Road Initiative, which was launched to facilitate ties between China and countries and regions along the ancient Silk Road Economic Belt and the 21st Century Maritime Silk Road.
In addition to construction of facilities, enhanced international cooperation will facilitate services at the Nansha port, according to Song.
The Nansha port will develop more than 60 international routes by the end of this year, most of which are linked with Southeast Asia and Africa.