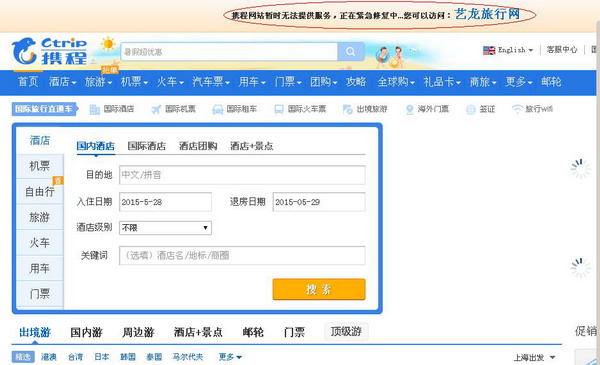 A screenshot of Ctrip.com that has been under attack. [Photo / chinadaily.com.cn]
Ctrip.com, the website of China's most popular online travel agent, has been under attack by unidentified hackers and unresponsive for several hours on Thursday.
For the moment, it's impossible to book flights or hotels or travel packages. Its homepage currently features a banner reading, "Ctrip is temporarily unable to provide service, and is being repaired."
The company's website and app were taken offline by an attack which began around 11am, said the South China Morning Post citing Ctrip spokesman Shi Kaifeng.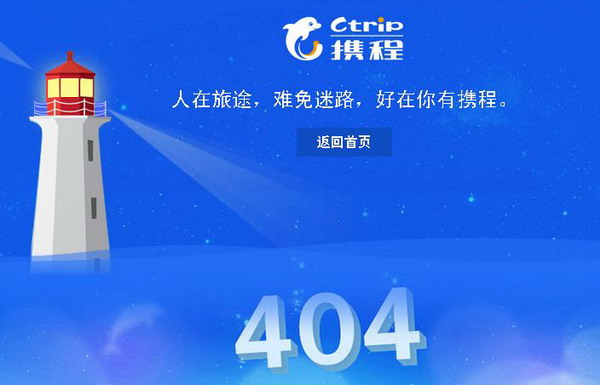 A screenshot of the web page when people try to book travel plans on the website. [Photo / chinadaily.com.cn]
He did not say when the website was expected to be back online, but confirmed that all data, including customers' personal information and credit card information, was safe.
On top of Ctrip's website is a message directing users to eLong, another leading Chinese online travel agent which Ctrip spent around $400 million to buy a 37.6 percent stake in last week from US travel giant Expedia.
Data from business consultancy Eguan show that Ctrip holds a majority 46.2 percent market share in China, followed by Qunar with 16.6 percent and eLong with 13.5 percent, the newspaper said.
The agent warned customers to cancel their credit cards after security researchers discovered a loophole which made user information vulnerable to hacking in 2014.