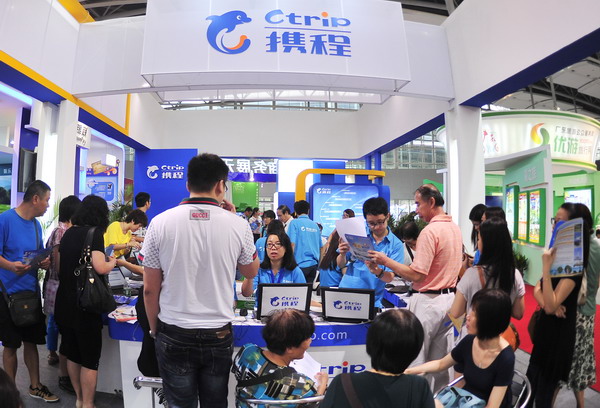 The booth of Ctrip, China's largest online travel agency in terms of market share, at a recent tourism expo in Guangzhou, capital of Guangdong province. The sales and marketing costs of Ctrip stood at about $97 million in the third quarter of 2014, a 25 percent year-on-year growth. Provided to China Daily
Online companies from China are cashing in on surge in outbound travelers
Julia Yang, a 29-year-old Beijing resident, remains unruffled when her friends and relatives ask her about the preparations for her forthcoming trip to Europe during the Spring Festival.
Yang said that she is not unduly worried as she has already made all the necessary arrangements including travel, stay, sightseeing and other leisure activities with her mobile phone.
"It is very convenient to work out overseas travel plans nowadays," Yang said adding that, "there are various websites and applications that can provide virtually any kind of travel and tourism related services."
Yang says some of these services could range from hotel room bookings, car rentals, local guides and restaurant recommendations, while there are several others who specialize in niche, tailor-made services.
"My parents, who are traveling with me are making their first overseas trip and they cannot believe that it is possible to make all the arrangements in advance," she said with a smile.
Yang's testimony does come as sweet music for online tourism companies as the sector is witnessing a flurry of activity to coincide with China being one of the largest source markets for outbound tourism and spending. Not surprisingly, the boom has transcended to the companies that provide personalized and specialized tourism-related services, said industry sources.
Apart from additional investments by existing companies, the tourism sector is also fast becoming the sector of choice for prospective entrepreneurs, thanks to the promise of quick, steady returns.
Booming market
Over 19 billion yuan ($3.081 billion) was invested in tourism-related companies during 2014 and most of the investments came from entrepreneurs targeting the niche segment of specialized services, according to data from CTCNN.com Inc, a company that tracks the online tourism sector.
Even as competition in the niche market is intensifying with the presence of small players, the bigger companies are also charting strategies to grab or retain market share, the sources said. Travel services company Ctrip.com International Inc is currently the market leader with a market share of about 54.3 percent in 2014.
Hu Jie, who used to work with a web portal, is one of the entrepreneurs who has tasted success in the industry. Hu left his job last year to start his own website - Xianlvke - to provide overseas guide booking services for Chinese travelers.
"Finding the right tour guides who understand the needs of Chinese tourists has always been a gray area in overseas markets. Most of the tourists find that they are unable to communicate with the tour guides they chance upon and as such often end up missing several unique experiences," he said.
Hu says the idea for Xianlvke, which is Chinese for fresh traveler, came from his trip to Europe in 2012. During that trip he had met a local councilman in Zurich, Switzerland, who took him to the city hall and introduced him to the mayor. "It was an amazing experience and I don't think any travel agency would provide such attractions," he said.
He said that during his trip to Europe and from the warm interactions that he had with local people, the idea of providing such specialized services to other tourists took shape.
"I realized that I could set up a platform to introduce the local guides to travelers, so that they can have unique experiences during their trips," he said.
Xianlvke currently has about 2,000 local guides registered with it and most of them are from Asia, Europe and North America. Travelers can also talk to the local guides through the website and peruse the comments uploaded by other travelers.
"The relationship between the guides from Xianlvke and the travelers are more personal, rather than being just a business," Hu said.
Travelers pay about 1,000 yuan per day directly to the guides on average and the website does not charge anything at present.
Hu said his company hopes to make profit from other related businesses in the future, including scenic spot tickets, concert tickets and even hotel bookings, as the travelers will have other needs during the trip after the guides make special travel plans for them.
"The potential market is huge and only if we provide the right and good quality services can we hope to attract enough users," Hu said.
Xianlvke is still in its early stages and has about 10,000 registered users. But the company already got several millions of yuan as angel investment in 2014, showing the confidence of the investors in the success of the business. Hu said that he plans to use the investment to make further progress in his business, such as launching mobile phone applications, this year.
Besides local guides, Chinese travelers can also enjoy tailor-made trips from some Internet companies without extra fees, since the traditional travel agencies usually charge high prices for tailor-made products.