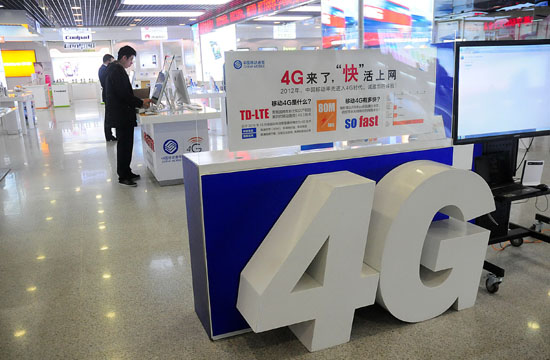 China Mobile's 4G experience center in Hangzhou, Zhejiang province.[Photo/China Daily]
Three biggest telecom carriers plan to reduce Internet usage charge has come under criticism with users calling it "modest" and "lacking sincerity", according to Xinhua news agency.
The companies unveiled their price reduction plans on Friday for broadband Internet, mobile data traffic and roaming services, after Premier Li Keqiang called for cheaper and faster Internet connection.
China Mobile introduced a 10-yuan ($1.61) cellular package for 1GB data used at night between 11 pm and 7 am, and 50 yuan for 2GB data among 4G users.
China Telecom said it would offer users a 20-yuan package for 3GB data used at night, and its average broadbank speed will rise from 11Mbps (megabytes per second) to 20Mbps with a 35 percent rate cut.
For China Unicom users, the original 2G and 3G users will be allowed to upgrade to 4G services and the carrier will offer a new cellular package that will charge 10 yuan for 1.5GB local data each month for six months.
The "night traffic" plans have drawn the most criticism among users, according to Xinhua, which quoted Internet users as saying they won't need the plan as they are already at home with access to Wi-Fi.
"Do the carriers really show their sincerity in the cut?" asked Xinhua, adding that some offers are not clear enough and are ill-designed.
China's Ministry of Industry and Information Technology on Friday pledged to elevate the country's broadband speed and coverage, while lowering Internet fees.