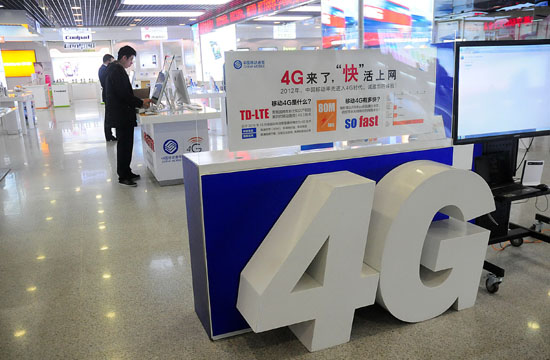 China Mobile's 4G experience center in Hangzhou, Zhejiang province.[Photo/China Daily]
China's three biggest telecom carriers have rolled out details of their price reduction plans in response to the call to boost Internet speed and cut cost from the State Council and the Ministry of Industry and Information Technology (MIIT) on Friday afternoon.
For China Unicom users, the original 2G and 3G users will be authorized to upgrade to the company's 4G service and will be rewarded a total of 1,000 MB Internet data coupon. For users who continue to use 2G services, the charge beyond the traffic packages has been reduced to 0.3 yuan ($0.05) per megabyte.
China Mobile introduced new 4G SIM for mobile Internet users, with a price at 50 yuan for a 2 gigabytes Internet service. The company has also presented 1 GB "evening traffic plan" (23:00 pm to 7:00 am) and 1 GB "national holiday traffic plan", both priced at 10 yuan.
The third telecom carrier China Telecom has also reduced the cost of 4G network service, with a promotional offer priced at 49 yuan for 2GB traffic used within a province.