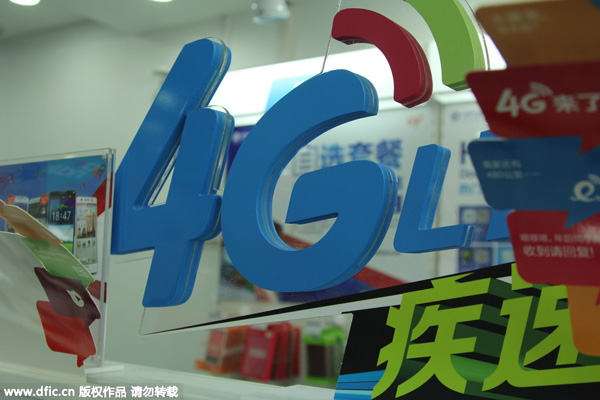 A signboard of 4G is seen at a branch of China Mobile in Shanghai, Dec 28, 2013. [Photo/IC]
New 4G network base stations covering the whole country, 100 megabyte fiber-optic connectivity and 30Mbps average broadband speed are some of the plans announced to boost Internet speed and cut costs by the Ministry of Industry and Information Technology (MIIT) on Friday, said CCTV.
According to the ministry, new 4G network base stations will be built to cover the entire nation by the end of 2017, households in prefecture-level cities will have the ability to accesses 100 megabyte fiber-optic connectivity, the average broadband speed will reach 30Mbps in municipalities and provincial capitals and 20Mbps in other cities around the Chinese mainland.
Moreover, the average cost of broadband and mobile phones' high-speed data will be significantly reduced, it said.
The MIIT asked the three domestic carries, China Mobile, China Unicom and China Telecom, to provide the cost-cutting plans on Thursday and the details are expected to be released today, said Beijng News, citing people from one of the carries familiar with the matter.
According to an earlier report by Xinhua News Agency, the MIIT issued a guideline to extend broadband usage in China last Friday.
Over 600,000 new 4G network base stations will be built to cover more townships and villages. More than 40 million households will have access to fiber-optic broadband, and over 200 million mobile phone users will become 4G network users by the end of this year, according to the guideline.
About 60 million more people signed up to 4G accounts in the first quarter, meaning that 162 million people in China are 4G customers, according to government statistics.
According to China Daily, Wednesday's executive meeting of the State Council, presided over by Premier Li Keqiang, asked companies to roll over the value of unused data in fixed price plans to the next period or allow customers to transfer unused data to others.
Li said optical fiber and fourth-generation telecom networks should be laid more quickly, and it set a goal of achieving investment worth more than 1 trillion yuan ($160 billion) in the Internet this year.
An open market, fair competition and more financial support will help to upgrade broadband services in rural areas. The meeting decided to narrow the digital gap between urban and rural areas by increasing financial support for the improvement of facilities in the countryside. In addition, 14,000 more villages will be connected to the Internet.