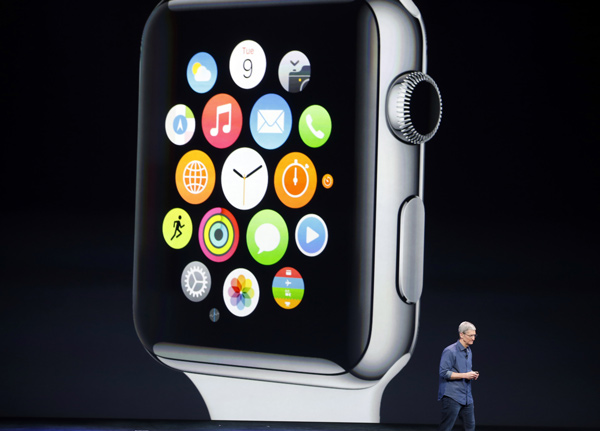 Apple CEO Tim Cook speaks during an Apple event announcing the iPhone 6 and the Apple Watch at the Flint Center in Cupertino, California, in this Sept 9, 2014 file photo.
Apple Inc has sent out invitations for a press meeting on March 9 in San Francisco, fueling rumors that it plans to launch Apple Watch at the event.
According to Reuters, the world's largest technology company did not specify what the event will be about in the invitation which reads simply "Spring Forward," a word play on the resetting of watches for daylight saving time.
Chief Executive Tim Cook said last month that the company plans to launch the smartwatch in April. The watch, which will let consumers check their email, pay for goods at retail stores and monitor personal health information, represents Apple's first major new product introduction since the 2010 launch of the iPad, Reuters reported.
Shares of Apple were up 88 cents at $129.67 on Thursday.
According to 9to5mac.com, Apple previously said that the wearable product will ship in "early 2015," while Senior Vice President of Retail Angela Ahrendts got a bit more specific by telling employees that the launch will occur in the "spring," after the Chinese New Year.
The Apple Watch will come in three collections, standard, sport, and edition, and several distinct wristband designs will be sold.
"While Apple has only revealed pricing for the metal and glass sport model ($349), rumors indicate that Apple will price the stainless steel and sapphire crystal standard model around $500, while the gold version will be priced in the thousands of dollars range," said 9to5mac.com.
According to wsj.com, Taiwan-based Quanta Computer, the sole assembler of Apple Watch, started mass production of the new gadget earlier this year.
To get ready for the launch date, thousands of Chinese workers continued to work round the clock during the Spring Festival holidays at Quanta's factory in Changshu, China.
In addition to the smartwatch, the company "is pushing its team to begin production of an electric vehicle as early as 2020,"said bloomberg.com on Feb 20, citing people with knowledge of the matter.
According to the report, the company's R&D costs were $6.04 billion in the past year, and Cook is facing increased pressure to return cash to shareholders. The CEO has been pushing the iPhone maker to enter new categories to further envelop users' digital lives with Apple's products and services.
The number of employees Apple had already poached from Tesla and other car makers implied that Cook had ambitions that went far beyond auto software like its existing CarPlay, bloombergview.com reported on Feb 25.
A source tells appleinsider.com that both Jony Ive, Apple's famed designer, and Tesla CEO Elon Musk were among the attendees at Madonna's A-list Oscar after-party on last Sunday and they had a conversation for about 30 minutes.
"The meeting also comes after Musk himself revealed that Apple has been offering 250,000 bonuses and 60 percent raises in an effort to recruit some of his top Tesla engineers," said the report.